Christ Embassy: Concealed Sex Scandal Exposed (Part III)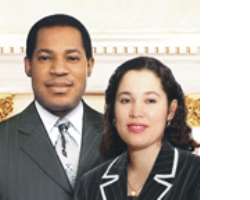 Chris and Anita Oyakhilome
Continued from: Christ Embassy: Concealed Sex Scandal Exposed (Part II)
Sources close to an Optometrist who currently resides in the United Kingdom reliably informed us that in early 2000, the former high-ranking member of Christ Embassy Lagos, who had mastery of the piano, met and fell in love with a young lady who was also a member of the church. However when he approached Rev. Chris Oyakhilome, he got the shock of his life: he was informed that he could not marry the lady. According to our source, Chris Oyakhilome did not think it was appropriate for a high-ranking member like him to marry a relatively new member of the church. The young lady had in-fact been a committed member of Christ Embassy church for about a year. Irked by this ugly development, she and her fiancée left Christ Embassy Lagos and were married a month later at another church.
Penultimate week in Johannesburg great deal of buzz was generated about Christ Embassy's program (Day of Bliss). The Internet, airwaves, streets, and local stores were inundated with the Gospel of 'Day of Bliss'. On every poster or advert is the picture of Chris and Anita Oyakhilome, who are beautifully portrayed as a committed loving Christian couple sold out to God.
However, this image is all a façade as Chris and Anita's marriage only exists on paper. Their marriage has long been engulfed in a major brouhaha that would get serious ratings, if it were aired on the Jerry Springer Show.
Sources reveal that Rev. Chris Oyakhilome has been separated from his wife for the past six years. For a man who leads a ministry that prides itself in controlling its parishioners by mandating them to marry only within the fold, this is a major dent in his character and Gospel.
Anita became born again at believers Loveworld campus fellowship at Ambrose Alli University Ekpoma, while Chris was the pastor. She has not known any other spiritual tutor or mentor besides him. Chris Oyakhilome's failed marriage attests to the fact that his doctrine of marriage within Christ Embassy is nothing but a fallacy.
Our investigation reveals that Chris Oyakhilome has a habit of controlling everything around him. His modus operandi is to have high-ranking/ rich members of the church marry people who are loyal to him. It is alleged that he is so busy controlling the lives of everyone around him, that he paid little or no attention to the needs in his own marriage.
Whereas Chris Oyakhilome presently resides in South Africa, his estranged wife Anita resides in London with their two children.
In Christ Embassy Ministry, Chris Oyakhilome's marital quagmire is a closely guarded secret, members under the illusion that work of the ministry is the reason why the two live apart. To perpetuate this grand cover up, the Chris Oyakhilome led ministry conjured the devilish plot of separating pastors and their wives by way of transfers. To test run this scheme from hell, Chris Oyakhilome conscripted his younger brother Kenneth Oyakhilome and his close maternal cousin Tom Amekhiena as guinea pigs for the trials.

Rev. Kenneth Oyakhilome was transferred to South Africa for several years, while his wife Ose Oyakhilome who was Kenneth's associate at Christ Embassy Isolo, was left alone for years in Lagos to raise their children and the head Church in Isolo, until pressure from within the family forced Chris Oyakhilome to let her join her husband in South Africa.
advertisement
Sources reveals that like a nomad, Kenneth Oyakhilome has again been transferred from South Africa to Houston, Texas, while his wife will remain in South Africa.
Rev. Tom Amekhiena, Christian Oyakhilome`s enforcer has played a part in this grand cover up as he has been transferred to Christ Embassy churches in Kano and Lagos, while his wife Joy was also left to raise their children and run the church in Benin city.
A source close to Rev. Chris Oyakhilome said, "the fact is that his marriage has completely fallen apart". We could not ascertain the reasons for marital failure as at press time, but feelers suggest that as soon as Anita relocated to London, a female member of Christ embassy (graduate of medicine at Unilag) who served as Chris's personal assistant took up the role of acting wife and practically moved into his house in Lagos.
A former high-ranking member of Christ Embassy, told our correspondents that he walked into a scenario that disturbed him for while. According to him, he had gone to Chris Oyakhilome's home one morning and as he walked into the living room he saw Chris Oyakhilome sitting down on the floor, with his head resting on the lap of this personal assistant. She wore short pants and a tank top, while she massaged his jerry-curled head vigorously.
Chris Oyakhilome siblings, worried by the antics and intentions of this young lady who took over his home in Anita's absence alerted his parents. Elder Oyakhilome, Chris Oyakhilome`s Father intervened and ordered Anita to return to Lagos with the children. However as soon as Anita returned to their Lagos residence, Chris Oyakhilome moved his belonging into the church. Members who noticed this anomaly, were told that he needed to seek the face of God. He reportedly refused to go home until Anita returned to London.
Rev. Anita Oyakhilome serves as the director of international operation of Christ Embassy ministry and it is alleged that the reason he has held back from getting a divorce is the negative impact it will have on his doctrine of "marriage only within Christ Embassy". In addition, a divorce will cost Chris Oyakhilome a great deal as he will have to cede half of the ministry to his wife. Our sources reveal that the initial major funds with which Chris Oyakhilome kicked off his church operations in Ikeja, Lagos came through her late father, who was the chairman of NDIC under General Sanni Abacha.
Chris Oyakhilome's marital brouhaha has had a rippling effect on the marriages of other high-ranking members of the ministry. Our findings reveal that Pastor Kristen, the wife of the Pastor of Christ Embassy Togo has practically abandoned her husband and four children in Togo to cater to the needs of Chris Oyakhilome in South Africa. It is alleged that her unhappy husband is helpless and careful in airing his grievance in order not to irk his principal. Our sources reveal that her husband who wants another child, has been deprived of his conjugal rights by her prolonged absence from their matrimonial home.
More to come............
|
Article source