What Nigeria should learn from Ghana - Obanikoro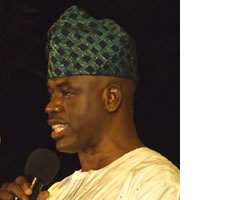 Nigeria High Commissioner to Ghana, Senator Musiliu Obanikoro in an interactive session with Nigerian journalists in Accra, highlights points of note from the Ghana 2008 presidential and parliamentary polls. The Guardian's CLIFFORD NDUJIHE was at the session excerpted here...
I want to commend Ghanaians for the peaceful and orderly conduct of the elections. I also wish to commend the Electoral Commission of Ghana (EC) for a very successful preparation and execution of the elections. I commend the political parties for the orderly and peaceful manner they went about during and after the elections.
What is of importance is the government of the day that made possible conducive environment to hold the election in an atmosphere devoid of the do-or-die approach. I give kudos to Ghanaians for their civility and the civil society for being very proactive and ensuring that everything is in order in terms of making things very transparent and ensuring that electoral officers discharged their duties according to the rules and regulations.
And more importantly, I give it to the Ghanaian press. They have covered almost every poling booth and in fact reported live at every poling booth. This is very commendable. It goes to show that it is not just the government or the electoral commission that has the responsibility for a free and fair election. The media also has a major role to play.
This is a lesson that should be taken home for the coming elections as we prepare to have an Independent National Electoral Commission (INEC) that will represent Nigeria in the true sense of it. We also should encourage the media to brace up for the challenges ahead. The media can make a difference as they have made a difference in the Ghana 2008 polls.
Nigeria can copy from what Ghana has done. It shows that preparatory work leading to the election and the enabling laws are put in place. For instance, it was not the Ghana Electoral Commission that accredited foreign journalists; it was the Union of Journalists in Ghana that did the accreditation. That allows the union of journalists to have attributes and control in terms of accrediting journalists from all over the world. You don't have a situation where the EC would say because this country is hostile to our country we will not allow journalists from this country to come and observe elections here. Nigeria can learn from this experience
We should also learn from the way the ballot boxes were handled. All the political parties were given seals. The EC had its own seal. So the EC will seal and the parties will seal. So before the boxes are opened, they will compare to make sure that the codes of the seals on that particular box tallied with the one they have. It served as check and balance. Another lesson is that they did not import their ballot boxes. They made the plastic ballot boxes in Ghana. You can imagine the kind of trickle down that would have created in their economy. That is one of the major lessons because we have INEC in Nigeria always importing ballot boxes.
What other contributions did Nigeria make to the Ghana polls aside donation of five Hilux Toyota vehicles?
We contributed by giving logistic support that I cannot quantify. Giving institutional support is very important to me than cash donations. I believe there was a lot of collaboration between the INEC and the Ghana EC so that Ghanaians will also learn a lot from our mistakes. We also brought in observers from INEC and I believe that they learnt one or two things from what we saw during the elections
Officially, we will give the government feedback on the elections. We will state some of these things. For instance, the ballot boxes and thumb printing boxes, which were made of cardboard papers; all have local content. The EC used public buildings extensively instead wasting money on buying collapsible polling booths. In some schools, there were about four polling centers depending on how big the school is. We can also borrow from this.
Attitude is the key in Ghana. They took civility to another level on Sunday. The Ghanaians were orderly. At the poling booths I saw thousands of people queuing to vote and they were orderly about it. You can see citizens trying to ensure that orderliness is the order of the day. Where you have people trying to have altercation, you see people coming in to resolve it. In some cases, they even prayed before they started voting: the electoral officers, political party agents and voters started with prayers and everybody went back to the queue after the prayer.
The key is having the right people at INEC. We must go away from the idea that professors are the only people that should head INEC. If it is a school principal that has principle and integrity to lead INEC, so be it. It is all about integrity and discipline. I think in our searchlight for somebody to head INEC when the tenure of Prof Maurice Iwu expires, it should not be for a professor but for an honest, credible and highly disciplined Nigerian who will shun money and intimidation in whatever form. I strongly believe that there are many Nigerians who can get this done without the fear of anybody. In Ghana, the office of the EC chairman is tenured in such a way that the man will get to 70 before he is retired. So look at the experience he has acquired in over 16 years of conducting five general elections and one run-off. Money cannot buy that; it is only experience and exposure that can buy it.
However, you cannot afford to put the wrong person there because the person can even destroy the country too. Put a wrong 55-year-old man who will have the right to live up to 70 before he steps down, he will mess up the whole country. If you look at the amount of money we spend on elections that Nigerians are saying that they don't have confidence in, it is too much. We spend so much money to defend the credibility of the election. The money could be channeled to development of Nigeria. Look at the amount of money we spend on litigation. If the process were free and fair, very few people will go to the tribunal because they know they were defeated in a clean and transparent election. The responsibility and challenge now towards 2011 is for the media to also brace up to ensure credible elections in Nigeria.
What about politicians and imposition of candidates?
Ghanaians had their own challenges too during the primaries. Some people even left their parties to contest as independent candidates. But by and large, it is not as we have it in Nigeria. To a large extent, their primaries were well conducted. They did not have a situation where somebody will sit in his sitting room and say this is the person that must run and no other person.
They had open primaries where people won based on their popularity. You had sitting ministers losing their seats, a lot of members of parliament lost in the ruling party. These are things that we must begin to imbibe if our democracy is to be developed.
What efforts is the commission making to boost relations between Nigeria and Ghana?
We have done a lot to improve relations between both countries. We have just had the Ghana/Nigeria business summit at the end of which we inaugurated the Ghana-Nigeria Chamber of Commerce. We have had the ECOWAS cultural festival in which we participated fully as a country. During the Independence Day celebration in Accra, we sponsored as a nation, a play that is one of the literature books that they use for WASSSCE. The play is part of our contribution towards educating the students and it was the first time they would be having that kind of input. We are trying to strengthen the educational exchange programmes between both countries.
Two weeks ago, we collaborated with an orphanage to assist Ghanaians from the Northern Region to raise money. Some of our governors like the Delta State and Imo State and first lady of Oyo State supported us.
What is the bilateral trade balance between Ghana and Nigeria like?
It is heavily tilted in favour of Nigeria. The level of Nigeria investment in Ghana is about one billion United States dollars. There is no Ghanaian bank, insurance and real estate company in Nigeria but we have many banks and insurance companies in Ghana.
Was that why the Ghanaian authorities slammed a $300,000 baseline requirement for any Nigeria to set shop in Ghana?
The law was not against Nigerians only, it was for all foreigners.