Christ Embassy: Concealed Sex Scandal Exposed (Part II)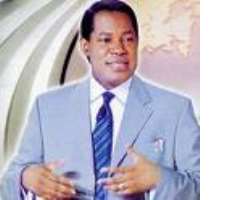 It was in the mid nineties, at a prestigious university located in Ugbowo, Benin city in southern Nigeria, it was the trend to attend a certain fellowship on campus. The fellowship was called Believer's Love world, To many students it was a gathering of the yuppies on campus, but the unique phenomenon amongst these supposed yuppies was that they were born again and filled with the Holy Spirit. The relationship between the parent body, Christ Embassy Benin and the campus fellowship was cordial until a certain Tom Amekhiena came on the scene.
Tom a light skinned, good-looking man whose character stink like a skunk, was sent by his cousin and president of Christ Embassy (Christain Oyakhilome) to assist Osagie Irabor, who was the head pastor in Benin. But instead of assisting Osagie, Tom using his closeness to Oyakhilome family staged palace coup.
Tom Aimiekhiena highly odoriferous personal character trait were overlooked by many because he was a close maternal cousin to Christain Oyakhilome.Though posted to assist the pastor in charge of Benin parish, located then at YWCA on airport road, he unceremoniously toppled the resident Pastor Osagie Irabor.
The coup, which was orchestrated by the high command of Christ Embassy, irked members of this campus fellowship, which was actually founded by Pastor Osagie. Initially, the leadership of this campus fellowship resisted the Cosa Nostra like take over, however, after a short while, nerves were calmed and fences were mended. Every one accepted the new status quo as a divine directive.
But for the over ambitious, over-zealous, Tom Amekhiena, it was the genesis of his scheming, after he consolidated, like the cosa nostra, he punished the Pastor who led the silent resistance against him by ensuring he was not allowed to hand over the reign of power to a successor of his choosing.
Rather Tom and the Christ Embassy hierarchy systematically installed their own man, who would do their bidding. He was called as Pastor Wale. No sooner had Pastor Wale arrived, he began to execute script written for him by his master, but besides that he committed atrocities that have never been heard of in the history of this pious campus fellowship. He began to help himself with the vulnerable female members of the fellowship; they became the object of his desire and sex toys. Pastor Wale a sexual deviant was let lose on unsuspecting innocent girls by Chris Oyakhilome. All night prayer meetings was turned into all night sex orgies, while counseling sessions became a forum of caressing and fondling with the breast of naïve girls.. Pastor Wale convinced gullible female members most of whom were virgins, that it was o.k. to have sex with their pastor, telling them that God will specially bless them for this favor done to a man of God. Pastor Wale's sexual escapades continued until it became an embarrassment for the Christ Embassy Ministry, and he was allegedly confronted by Christain Oyakhilome.
As measure of damage control, Christain Oyakhilome led CEC, intervened; overnight Pastor Wale was removed as Pastor of the campus fellowship and was shipped off to Christ Embassy Ibadan, to be rehabilitated by Tuoyo Edun, who was the head Pastor at Christ Embassy Ibadan. However, his victims, most of whom were adversely affected by Pastor Wale unconsentual sexual escapade were not provided any form of counseling or succor, instead they were blamed for seducing a pastor and called instruments of the devil.
A scenario where a Pastor who committed multiple criminals acts of rape on innocent and naïve girls received a pat in the back, while his victims were condemned is really disturbing. Such a double standard call to question the integrity, of Christain Oyakhilome led Ministry.
Traditionally, Christ embassy is not lenient toward regular church members who commit fornication, as culprit are called out publicly and meant to sit in the back of the church far from the congregation, and church members are instructed not to have any communication/contact with them until the pastor deems fit. But when ranking member of the ministry are involved it treated with hush, hush, and ultimate secrecy, different stroke for different folks.
advertisement
Our correspondent recently ran into one of Pastor Wale victims who is now happily married. The words she uttered about her ordeal were so outrageous that he wanted to run to the street with it, but she requested her ordeal not be published.
Whereas Chris Oyakhilome contends that the vision of believers Loveworld (a.k.a Christ Embassy) is taking God's divine presence to the people, and demonstrating the character of the Holy Spirit.
Pastor Wale's conduct is a complete deviation and Rev. Tom Amekhiena and all the people who engineered the imposition of this depraved, sexual deviant known as Pastor Wale who preyed on innocent, naïve; unassuming girls like a ravenous wolf should be brought to justice.
According to sources close to the ministry Pastor Wale has since been rehabilitated and given a clean bill of uprightness by the Chris Oyakhilome led Christ embassy. Nevertheless, Pastor Wale did perpetrate a crime, which he must answer to.
Christ Embassy mission statement reads: "We are on a mission to raise generations of men and women who will come into their inheritance and fulfill God's purpose for their lives". Rev.Tom Amekhiena a graduate of Ambrose Alli University is a selfish shylock with no people skills. Besides his wife, no other pastor posted to work with him in Christ Embassy Benin, has successfully done so without tales of woes. Notable among these apprentice pastors is a young man called Pastor Ike, who was a Pastor of one the numerous believers Loveworld campus fellowship. When Ike graduated from college, he told his friends and family that he believes God had called him into full time ministry. However, he recognized that he needed to be properly trained for this work, so he informed Chris Oyakhilome of his desires and intentions. Ike was subsequently posted to Christ Embassy Benin City to be tutored by Tom Amekhiena. Instead of nurturing and tutoring the young man who was full of hopes and aspiration, Pastor Tom subjected this young man who was raised by a single mother ,that toiled day and night to get him through college, to very inhumane conditions. Sources reveal that for the two years that Ike worked with Pastor Tom Amekhiena, he was not paid a dime, instead he was told to go "live by faith" by Rev. Tom Amekhiena, who regularly received his own monthly remuneration.
Pastor Ike, a bubbly young man known for his GQ dressence, was reduced to drags. It is alleged that before he left Benin to seek a secular job in Kano, Ike wore laughing shoes and had no good clothes to wear to church, to sustain him; he resorted to begging for money. While Rev. Tom Amekhiena, his supposed mentor drove around Benin City in an N5million car. What a way to mentor a fellow human being. If the academy awards had a category for man inhumanity to man, Rev. Tom Amekhiena will definitely go home with an Oscar.
Tom Amekhiena a close maternal cousin of Chris Oyakhilome, wields a great deal of influence in Christ embassy and most Christ Embassy pastors thread cautiously around him. But, he is unsuccessful, in the area of personal relationships/ courtship thanks to his odoriferous personal traits, and his inability to decipher that all that glitters is not gold. Prior to his marriage in mid to late nineties, he allegedly courted every tall, light skin, girl that portrayed signs of sophistication, regardless of their spiritual maturity as long as they were in believers love world Ministry. Our source remembers vividly Tom Amekhiena coming to this prestigious University located in Ugbowo, Benin city to check out a particular spiritually inconsequential female member of this campus fellowship in a borrowed jeep. He usually parked this borrowed jeep, which belonged to a Pastor friend of his, who hails from Liberia in the school library parking lot or in front of the female hostel, depending on his time of arrival. On one occasion, our source was at the library studying, when suddenly someone tapped his shoulder gently, he turned around to see who it was that sought his attention, and it was Tom Aimiekhiena. "He actually made me take a forced break from my books to look for this girl, who was not enthusiastic to see him". However, true to his character he bungled this relationship, like his other past relationships.
Tom Aimiekhiena relationship quagmires had become cause for concern, his cousin and benefactor Chris oyakhilome soon staged an intervention to save him further embarrassment. Chris Oyakhilome hurriedly hooked him up with one of his highly trusted, long time female associate Pastors, Joy Ihegie, a graduate of Auchi Polytechnic, who is alleged to wear the pants in their marriage.
Marriage in Christ Embassy is closely monitored like in most cults. Church members are mandated to marry only from within the Christ Embassy Ministry, and such marriages must be approved by the Pastor who preside over the local parish that the would be couple attends. Members who marry outside Christ embassy are made to believe they are out of the will of God. Some member of the church who choose to listen to this doctrine of "marriage only within Christ Embassy", have had to wait two to four years to get their pastors approval before they can get married.
A certain couple name (withheld) irked by the prolonged delay of their marriage by their local Christ Embassy Pastor, 3 years after their families had given their blessing to the union, left Christ Embassy church and got married in their parents church.
Another former member of Christ embassy Benin city, who spoke to us on condition of anonymity, revealed that she had approached Rev. Tom Amekhiena about her engagement to a Pastor from another ministry. Rev Tom, asked her to invite the pastor over, they went through his schedule and a date was fixed. Excited she went home and informed her parents and fiancé, but on the appointed date, she and her fiancé arrived as scheduled, waited for six hours but were not seen. So they rescheduled, but the same treatment was meted out to her and her fiancé repeatedly on six occasions. However, unknown to her, Rev Tom Amekhiena had sent for her immediate younger brother, who also attended Christ embassy then. According to her, Rev. Tom Amekhiena had told her brother that her engagement was not of God, and that her brother should do everything within his power to ensure that her wedding did not take place.
TO BE CONTINUED.
|
Article source