AIRHIAVBERE DARES OSHIOMHOLE, DENIES BEING DETAINED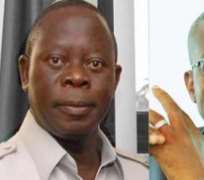 BY SIMON EBEGBULEM AND GABRIEL ENOGHOLASE
THREE days after Comrade Adams Oshiomhole gave him a last minute jibe during the final television debate, Gen. Charles Airhiavbere (rtd) yesterday responded to the allegations of being detained and forcefully retired from the Nigerian Army.
In his own response, Airhiavbere accused Oshiomhole of covering up issues on his alleged new country residence and challenged the incumbent to take the media on a guided tour of the property for the verification of claims.
Oshiomhole and Airhiavbere
The PDP candidate also sought to debunk the claim that he referred to students as armed robbers during the debate.
'I never called them armed robbers and I will not also encourage an environment that will portray them as such. That is exactly what happening in the budget,' he told newsmen yesterday.
Giving his own jibe, he said 'Oshiomhole has not been able to explain to the Edo state people the issue of his house at Iyam. But he should take the journalists on a guided tour. If he was able to run the journalists to Anedokia Road he should be able to take them to his house,' the candidate said yesterday.
He also denied being detained in the days leading up to his exit from the Nigerian Army saying he could not have retained his medals and honours if he had been detained as claimed by Oshiomhole during last Thursday's debate.
It would be, recalled that following his response to the question about his country home during the debate that Governor Oshiomhole had warned Airhiavbere that he, Oshiomhole, should not be provoked else he would release details of the alleged detention and forceful retirement of Airhiavbere from the Army.