Terrorism Undermining Nigeria's Investment Opportunities, Says Chalker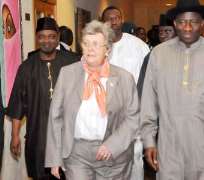 ABUJA, July 07, (THEWILL) – Nigeria's terrorism challenges have been weakening the country's opportunities for foreign investment and will assume a more devastating dimension if a solution is not found in earnest, Coordinator of the Honorary International Investors Council (HIIC), Baroness Linda Chalker has said.
Chalker was speaking with State House correspondents at the end of the 12th meeting of the HIIC at the Banquet Hall of the Presidential Villa, Abuja.
Chalker, as well as minister for trade and investment, Olusegun Aganga; minister for information, Labaran Maku; and executive secretary, Nigerian Investment Promotion Commission (NIPC), Engr. Mustafa Bello, agreed on the need for government to address the issue urgently.
"If the stories that come out of Nigeria are negative, you are undermining your own country. If people hear that there are opportunities, they then start to think of how they can work on those opportunities and that is what we have to get the Diaspora in every nation to do for the people of Nigeria. Every embassy and every high commission of Nigeria has got to promote the opportunities in Nigeria, when they are overseas," she said.
"I don't think terrorism, however worrying it is, has actually stopped any major investment yet. But if it is not dealt with — add the bunkering of oil, too — if these things are not dealt, they will have a long term effect. And that is why, listening to the president this morning, he said he will take specific actions to assist."
Speaking also, Information Minister Maku urged the media to report the country positively. "One thing that came clearly across is that there is no nation that doesn't have a difficulty or a problem in its polity, but citizens, the media and the government must make efforts to ensure that we tell the good stories about ourselves even more than the bad stories, because if we choose not to do this the negative impressions continue," he said.
"Most of what is negatively reported about our country is picked up from our own domestic Media first and foremost; and about 75 per cent of all the things they hear about our country is what they read about us on the internet and on media and so on. We also agreed that there is a need for the media, particularly, and the government to come together to refocus attention on the consequences of what we say and write on the investment image of Nigeria."
The two-day meeting, chaired by President Goodluck Jonathan was also attended by Vice President Namadi Sambo, key ministers in the cabinet, CEOs of companies with interests in the country and prospective investors.