Child beggars of Nigeria's Koranic schools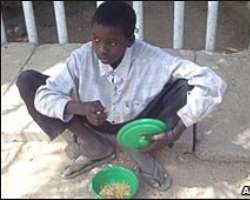 Not all Nigerian beggars are from the almajiri schools
"We are really suffering, life is so tough. We don't have enough water to drink or to wash our clothes. We don't have enough food, so we have to go out and beg."
This 14-year-old boy is not an orphan, nor is he homeless.
He is a student of one of Nigeria's network of Islamic boarding schools, known as almajiri.
He told the BBC World Service that he had lived there for 10 years, and is sent out to beg every day by his teacher, known as a mallam.
"It is compulsory for us to go and beg. If we stayed at the mallam's house he's not going to provide us with food - we have no option but to go out and beg."
An estimated eight million Nigerian children live in almajiri, an Islamic school system common in northern Nigeria, Chad and Niger.
Sent by their parents from as young as four or five, they learn to memorise and recite the Koran.
As it is a boarding school system of sorts, the children usually sleep in the mallam's house, often in very basic accommodation.
'Criminal activities'
Like the schools, the mallams themselves are unregulated and usually untrained.
Pupils at the religious school undergo a rigorous regime of learning

The system has been blamed for a rise in the number of beggars in the urban centres of mainly Muslim northern Nigeria.

Muhammad Babandede, of Nigeria's anti-trafficking agency Naptip, says that children of almajiri are being exploited:

"The children have been abandoned. Children as young as four or five are without parental care, anything can happen to that child, they have no protection. "

Mr Babandede says the children are in danger of being used for criminal activities, even recruited into terrorism.

"The state government are only paying lip-service to this problem, they have closed their eyes to these schools."

"There must be good accommodation, good healthcare in these schools, but the government and the parents are not willing to take responsibility for these children. "

Neglect
Ahmed Modibbo of Nigeria's Federal Ministry of Education says the main problem with the almajari schools is "our inability to integrate them with the state's basic education system".

Mr Modibbo believes Nigeria's state governments should provide economic incentives to the mallams, so that they don't have to rely on children to beg for them.
More than 50% of Nigerians live below the poverty line

Ibrahim Shekaru, governor of Kano State, says he is trying to do something.

"It is a school system that has been neglected by the various government administrations," he says.

"But we are trying to address it and give it some serious attention."

He says his administration is trying to integrate the almajiri into the state system, and has set up a number of pilot programmes.

But, he says, tackling the problem will take time:

"Taking them away from the streets is a gradual process. The almajiri system has existed for close to a century in neglect, even more, so it will take a number of years to address this."

'No future'
For the children that remain in the current almajiri system, the future looks bleak.

"When they finish school they have no certificate to get a job," says Mr Babandede.

"They have no future whatsoever. They end up being criminals and victims."

As for the 14-year-old almajiri student, he says: "I would like to be a Koranic teacher, and teach others the way I was taught. But I do not think it is worth going through all these difficulties to get there."