SO NORTH GIVES NIGERIA FEMALE CHIEF JUSTICE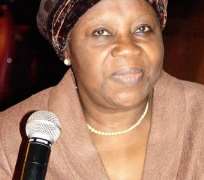 Northern Nigeria scores another first. It had once given the country its first university graduate as president. Now it has produced the first female Chief Justice of Nigeria, CJN. Women everywhere should rise and clap. One doesn't even need to counsel that. They already are. So this writer will like to join them. And there is a reason. Early 1990s. That was when this writer was in one of the northern states for the NYSC programme. He had witnessed a pattern of girls being withdrawn from schools to marry. "A well-educated person like you is from this same setting; why don't you engage in sensitization campaigns, showcasing female achievers as models to parents and girls?" That was a suggestion to a friend. The friend had smiled and said, "It's not as straightforward as you think."
Justice Aloma Mariam Mukhtar, the new CJN is a force, another role model that may make that suggestion for change straightforward. Role models are important in any nation. The young look up to achievers, and dream to achieve.
A young man thought of becoming the president at the time he shook the hands of President John F. Kennedy in the early 1960s. He did become the president of the United States years later. Role models are good for parents too. They give their children names of important people they admire. Many in Nigeria have since 2011 named their kids Goodluck. That's not where this piece is heading. It's another direction. Nigeria is in need of role models. The North is in need of female role models more than any other part of the country. Take a look at these figures from the British Council's Gender in Nigeria Report 2012: Only 3% of females complete secondary school in the Northern zones of the country. Over half of all women in the North are married by the age of 16 and are expected to bear a child within the first year of marriage.
Ninety-four percent of 15-24 year olds in Kebbi have no knowledge of contraception. Girls from poorer families are more likely to marry young and have worse health outcomes. Nigeria has 2% of the world's population but 10% of global maternal deaths. A third of 15-19 year olds in Northern Nigeria have delivered a child without the help of a health professional, traditional birth attendant or even a friend or relative. Poorer girls and women are particularly disadvantaged. Only 7% of women in the poorest segment of the population deliver in a health facility. Most 15-24 year old women in Nigeria think it is reasonable for a husband to beat his wife if she burns the food, refuses sex or goes out without his permission. Nearly half of unmarried women in parts of Southern Nigeria have experienced physical violence. Rising income inequality hits women hardest. Fifty four million of Nigeria's 80.2 million women live and work in rural areas, where they provide 60-79% of the rural labour force.
Human development outcomes for girls and women are worse in the North, where poverty levels are sometimes twice as high as parts of the South. Hausa girls, for example, are 35% less likely to go to school than Yoruba boys. On the whole, the impact of inequality on the lives of girls and women is reflected starkly in health and education outcomes, nationally and between North and South. Obviously, without land title, it is hard for women to raise the finance they need to start productive enterprises. And women with dependants pay more tax than men, who are automatically defined as bread winners. Above that. women in formal employment are paid less than men.
Politically, women are under represented. Their upper and lower house representation fell from 7% in 2007 to 4% in the 2011 election (the African average is 19%). Only 7 of 109 Senators and 19 of 360 Representatives are women. But how can the unenviable situation be turned around? In terms of livelihoods and productive enterprise, economic independence is an essential dimension of women's empowerment. Improving their access to, and control over resources increases investment in human capital which in turn improves children's health, nutrition, education and future growth. Of course, the importance for development of girls' education cannot be overstated. To capitalize on the potential of its people, and ensure healthier, more educated, empowered and productive citizens, Nigeria must invest in educating the mothers of the next generation. The evidence is irrefutable. Educated women are more likely to use health services and to have fewer and better-nourished children, and their children are more likely to survive.
Girls who are educated will also contribute to future economic growth. Education policy can influence parental decisions about the age at which daughters marry. Recent research shows that, for many parents, the costs of education appear currently to outweigh the benefits As if to buttress that girls' dropout rates are high in Nigeria, the country has the largest number of out-of-school children in the world. Often, the decisions to seek treatment for herself and her children in hospitals may be influenced by a woman's social position in the household, as well as her economic status, age, and education.
Overall, this is affected by the question: Who makes decisions? Only 9% of those who stood for election in Nigeria's April 2011 National Assembly elections were women. This is below the global average and well behind South Africa and Rwanda. The Gender report notes that lack of women in decision-making positions may be one explanation for Nigeria's low investment in sectors that are crucial to human development outcomes, such as health and education. Women are under represented in all political decision-making bodies and their representation has not increased since the inception of democratic rule in 1999. Yet, more women than men register to vote.
Under this scenario, a woman on the national scene such as the new CJN is a living example that it is possible to have more females in important positions.
Especially in positions where they can influence decisions that can improve the condition of women. Justice Muktar has led the way for women several times in her life. She had begun her legal career as a pupil counsel in the Ministry of Justice of Northern Nigeria in 1967. She was later appointed as the first female Magistrate Grade I, North Eastern Government (1969 – 1973), and the first in the whole of Northern region. She was also a first with her appointment as the Chief Registrar, Kano State Government Judiciary (1973 – 1977) and Judge, High Court of Kano State in 1977 and Justice, Court of Appeal in 1987. Justice Mukhtar had recently rejected an offer for an international appointment when nominated as the Chief Judge of The Gambia. She was also the first female President of the nation's Court of Appeal from 1993 to 2005.
Justice Muktar had her primary education at the St. George's School, Zaria and also at St. Bartholomews's school, Wusasa, also in Zaria between1950 and 1957.
She furthered her education at Rossholme School for Girls in East Brent, Somerset, England for her GCE O' Levels in 1962 and went for further education at the Technical College, Berkshire England. She graduated from Gibson and Welder college in law in 1966 and was subsequently called to the English Bar in absentia. She was called to the Bar on June 26, 1967
Written By Tunji Ajibade
[email protected]

Disclaimer:

"The views/contents expressed in this article are the sole responsibility of

thewillnigeria.com

and do not necessarily reflect those of The Nigerian Voice. The Nigerian Voice will not be responsible or liable for any inaccurate or incorrect statements contained in this article."
Articles by thewillnigeria.com