Reps Reject Motion Seeking To Rename House Buildings, Offices After Officers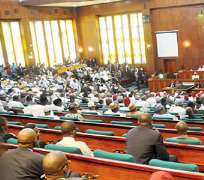 … Urges FG To Pay Ebonyi N11.4B

ABUJA, July 04, (THEWILL) - The House of Representatives Wednesday rejected a motion seeking to rename the House of Representatives building and committee rooms of the chambers after former presiding officers.
Hon. Uche Ekwunife (APGA) had in a motion titled "Need to rename the House buildings, hearing and committee rooms after former presiding officers to enable easy identification", noted that from a mere three office building complex, at the inception of the current democratic dispensation in 1999, the National Assembly has grown exponentially with more officer complexes springing up in the last couple of years.
She said these additional offices, hearing and committee rooms have led to a surfeit of offices for honorable members, as well as hearing and committee rooms for the transaction of the business of the House both for plenary and committees.
Although, Ekwunife argued that the trend all over the world is to name institution's buildings after members who have distinguished themselves in the service, the idea was hotly contested by those opposed to it.
She cited the example of such as the Congressional office building in the United States of America where the six buildings are named after the former senate majority or minority leader and the former speakers of the House.
She listed these examples to buttress her point: "Dirksen Senate office building, Hart Senate office building, Russell Senate office building, Canon office building, Longworth House office building and Rayburn House office building."
Recall that the House has had more than a dozen former speakers and deputy speakers since the institution of legislative process in Nigeria.
In spite of her arguments, majority of the lawmakers kicked against it and when deputy speaker, Emeka Ihedioha put her motion to question, the nays were in an overwhelming majority.
Also today, the House called on the federal government to reimburse Ebonyi state and other states governments of all the monies they expended in the completion of federal roads in their states.
The advice was given following the adoption of a motion sponsored by Hon. Tobias Chukwuemeka Okuru and four others.
Okuru in the motion noted that in order to ease the suffering of their respective citizens, Ebonyi state and other state governments embarked on the construction and rehabilitation of federal roads in their respective states under the reimbursement arrangement.

He said, he was aware that several federal projects have been completed by the states in line with the specifications of the Federal Ministry of Works and the National Council on Works (NWC).
The lawmaker expressed worry that in the face of the current economic crunch, Ebonyi state government is still being owed the sum of N11.4 billion it spent on federal roads in the state.