INEC To Conduct Complete Voter Authentication In 2015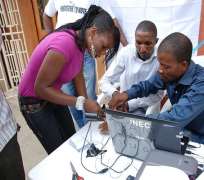 SAN FRANCISCO, July 02, (THEWILL) - The Independent Electoral Commission (INEC) would ensure 100 per cent voter authentication in the 2015 elections using chip-embedded permanent voter cards that would be issued to voters.
Its chairman, Professor Attahiru Jega made the disclosure while making a lead presentation on the role of Information Technology in voter registration, delivered at the biennial conference of the Commonwealth Electoral Network (CEN) in Toronto, Canada.
Speaking through a press release that was signed by Kayode Robert Idowu, his chief press secretary, Jega stated that though the 2011 voter registration has been generally hailed as perhaps Nigeria's best, it was not perfect. "There was the challenge of tapping the full potential of biometric voter registration. We paid attention to issuing temporary voter cards that were used for voting in the 2011 general elections because of the inadequate time that we had.
"Now that we have a little more time, we are working to ensure that by 2015, we will have 100 per cent authentication; so that when a voter comes with his permanent card, which is chip-based and has all the information that we have in the database, we will use card readers and when you present it, it will be read, with your fingerprints and all other embedded details.
"This will ensure 100 per cent voter authentication. And this is very important in Nigeria because fraud in elections has always been associated with multiple voting and the misuse of the voter cards."
According to the INEC Chairman, the permanent voter cards will have an added advantage of being easily adaptable to electronic voting when the country gets round to it.
Responding to a question on the prospect of Diaspora voting, he said: "The cards we are producing are also compatible with certain models of electronic voting, and so could be very useful in the future. The only thing is that now, our laws prohibit electronic voting.
"But there is an ongoing process regarding amendments to the Constitution and the Electoral Act, and maybe that aspect will be looked at. If that happens, we will be in a position as we prepare for 2015 to start experimenting with some form of electronic voting."
Professor Jega also said INEC was fine-tuning the procedure to be adopted for continuous voter registration, as it is very important to continually update the register. There are many models out there: either you do it at a particular time once in a year like India does or you set up a machinery, whereby anyone who turns 18 anytime within a year can walk in and get registered," he added.
In his introductory remarks at the conference, which was attended by 49 out of the 53 member-countries of The Commonwealth, commonwealth secretary-general, Mr. Kamalesh Sharma, said a major objective of the platform was to foster best practices that would make elections acceptable to the electorate and, thereby, contribute to the strengthening of democratic governance institutions in member-countries.