WEIGHING ECONOMIC COUNCIL'S 'BUFFER' PROPOSITION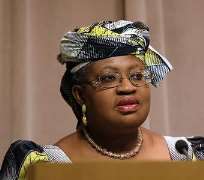 No one can call Nigeria's Finance Minister an economic theorist. She has been in the field far too long for such a mistaken identity. And it is only those who do not know her well will doubt how keenly aware she is about the kind of magical disappearance that can happen to funds that any administration keeps in safes for the benefits of all Nigerians. But Dr Ngozi Okonjo-Iweala was at a meeting of the National Economic Council, NEC, the other day. It was where the proposition was made that Nigeria should build 'buffers' for its economy. Excess revenue from crude oil would be used to build buffers. That sounds good, and it should not elicit worries. Yet there is a need to raise issues, issues that seem to have escaped the attention of every member of NEC, including the nation's Vice President.
Mama Nigeria, Okonjo-Iweala, addressed news hunters sometime after that NEC meeting? She said Nigeria is definitely not broke like some nations in Europe. But then, Nigeria is not immune to the shock that the financial earthquake in Europe can cause. She also said the nation should build buffers by stockpiling revenue from oil in government's excess crude oil account. That's in case anything happens to world economy as it did in 2008. No one can fault the Finance Minister and NEC on all of that. But storing excess revenue in excess crude oil account? That means the Council takes only oil into consideration. The Council must take oil into consideration. Is it not the only worthwhile egg for the federal government? Even the Senior Prefects from the thirty six states come to Abuja to collect theirs. Who would not beg for eggs when he can not raise any in his own backyard? The Senior Prefects had made calls to have more, even as they sat in NEC, agreeing to a policy to store oil revenue in excess crude oil account. There was also a time they took the federal government to court in order to have access to the content of this same excess crude oil account not long ago. What those state leaders might soon struggle to grab is what the Finance Minister wants to store. The possibility of that confrontation coming to the surface again anytime the 36 states find themselves in a tight corner is one reason to worry about this proposition. In the event, what is meant to serve Nigerians may go the same way it is not intended. This is not the only worry, however.
At the time NEC took its decision, a curious report appeared on the international space. Its relevance is in the fact that it further puts holes in the latest proposition on how to steady the ship of the nation's economy. "Asian refiners will reduce imports of West African crude in July to the lowest level in 10 months." That was a report from Bloomberg in the same week the Council mentioned saving around 10 billion dollars for the raining days. This leads to the question: In a situation where what the nation sells is reduced, where would the excess revenue to store away come from? As it is, the country worries that prices of crude may fall so low that foreign reserves would have to be depleted to fund the 2012 budget. The said report cited China and India that would cut their purchases of crude. All that these refiners in Asia would be buying from Angola, Nigeria, Republic of Congo, Equatorial Guinea, Democratic Republic of Congo and Gabon for the period totals 42.05 million barrels, or 1.36 million barrels a day, the least since September 2011, and 25 percent less than June, 2012. Those buyers can as well opt for crude of the Middle Eastern or Atlantic Basin grades. And their choice normally depends on the value of the lighter, sweet blends from the North Sea and West Africa versus heavier, sour grades from Saudi Arabia and Iran. Lighter crude yields more lucrative products such as diesel and gasoline. Sweet grades contain less sulfur than sour. None of those comes from West Africa. Add that to the fact that a slowdown in economic growth among Asian buyers has sapped oil demand, while cheaper alternative grades also prompted refiners to cut back on their intake of West African crude.
This means Asian refiners bought Algerian, Azeri and Libyan crude instead of Angolan and Nigerian grades." In any case, refiners have stockpiled oil ahead of the implementation of sanctions against Iran by the European Union starting by July. Nigerian benchmark Qua Iboe fell to a premium of $1.35 a barrel to Dated Brent, late in June. That is the lowest since the beginning of May. The U.S., the biggest buyer of Nigerian crude, has cut its purchases since September. Its imports from Nigeria fell to 337,000 barrels a day in March. Compare that to the figure of 840,000 barrels throughout 2011. The Chinese add more to the woes. That nation's biggest refiner reduced crude processing for June by 8 percent from its original plan. The cut in processing rate came after China's stockpiles of crude for commercial use rose to its highest level. And the Indians have not done less than the Chinese. These are issues from outside that can affect the revenue from crude oil that Nigeria wants to store.
Internally, the challenges that confront oil exploration and production in the oil producing part of the country are known. That's not to include the billions that are stolen by those who handle the revenue from whatever crude is sold, and those who got paid for fuel they did not import into Nigeria. What was left in the kitty in whatever account in the late 2006-2007 period had been frittered away in the years that followed, under the watch of the administration that took over that time. Now, can this proposition amount to storing revenue only for it to be frittered shortly after, with no benefits for the citizens? Storing away is not the only issue here. Storing away from only crude oil revenue also is. It means with all the noise that the current administration is making, dependence on oil remains its focus. Yet, diversifying the economy is a more reliable way to build buffers. Getting industries working, adding value to every raw material this nation can produce is another. Investing in the kind of infrastructure that would get industries roaring away is yet another. What the government wants to do amounts to taking the easier way out.
One other reason the current proposition becomes an issue is that this is not the only country where nations build buffers. Nations without oil build buffers, a reason the question can be raised once again, why only oil? Take the Pacific Islands, for instance. They all have commodities to give the world other than oil. At the moment, and just like Nigeria, they are on the lookout for means of building more buffers or policy rooms that include bringing down fiscal deficit. Nigerians know that if there is anywhere to build buffer, it is in the need for their government needs to curb the runaway cost of running government. The bigger Pacific economies - Papua New Guinea, Fiji and Solomon Islands with their heavy reliance on sugar and tourism, logging industry and rich minerals and natural resources belong to the category of nations that gear up for the unknown without revenue from crude oil. It needs to be noticed also that these Islands pay close attention to economies such as those of Australia and New Zealand's that are their major trading partners in the region. Is Nigeria paying attention to any market other than its own? Some other steps the Pacific nations take is to work at strengthening their economy, make it grow faster, accelerate structural reforms, and build in more policy buffers all of which place them in a better position to deal with price shocks on the global market. Any talk of such at the meeting of Nigeria's NEC?
Yes, the world economy is said to be slowing down as advanced economies like the United States of America and those in the Euro zone face ongoing structural challenges. This has caused global growth outlook to be revised downward by international agencies like the IMF. And the World Bank has urged developing countries to build up their buffers against financial storms arising from the high-income countries. It is stated as fact that developing countries have fewer means to weather shocks to their economies than they had in 2007, before the global financial crisis accelerated, and thus need to prepare for long-running turbulence.
In the face of that, Nigeria's NEC came up with its proposition to raise excess crude oil reserve from 5 billion to 10 billion dollars. And the time frame this is meant to cover in case of shocks from outside? Three to four months. Even a Nigerian with elementary knowledge of economics knows this is a joke for any serious nation to contemplate. The reasons NEC made a provision that covers just that short period is obvious in what it left unmentioned. There is no doubt therefore that if this is the only manner those in authority wish to tackle a global problem that can last for years, and which is capable of plunging 150 million Nigerians into further hardship, it is not sound enough. And it is time they came up with more robust, all-encompassing plan that both strengthens and moves the country forward, rather than make crash arrangements that shields off problems for just a couple of months. It is what is expected of those that are the nation's brain box.
Written By Tunji Ajibade
[email protected]

Disclaimer:

"The views/contents expressed in this article are the sole responsibility of

thewillnigeria.com

and do not necessarily reflect those of The Nigerian Voice. The Nigerian Voice will not be responsible or liable for any inaccurate or incorrect statements contained in this article."
Articles by thewillnigeria.com