Diversion Of $10m World Bank Grant: EFCC Arraigns Officers Of Cooperative Societies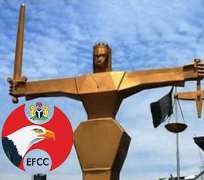 ABUJA, June 30, (THEWILL) - The Economic and Financial Crimes Commission (EFCC) on Friday arraigned Felix Maduegbuna, Stephen Fakrogha and Mbakwha Cooperative Society on the one hand, and Duru Cosmos, Paul Momoh and Orgba Cooperative Society on the other hand, on a two-count charge each before Justice Olukayode Adegbola Adeniyi of the FCT High Court, sitting in Abuja, for misappropriating a World Bank Grant Fund of $10million.
The Federal Government of Nigeria had obtained a $120million loan from the World Bank/IDA to develop the solid minerals sector of the economy. Out of this facility, a Grant Fund of $10million was made available for disbursement to artisans and small scale Miners (ASMs) and Mining Communities, but it was misappropriated.
Maduegbuna and Fakrogha, chairman and secretary of Orgba Cooperative Society respectively, allegedly in 2009, converted the sum of N4, 826,850.00 from the grant to their personal use, while Cosmos and Momoh, chairman and secretary of Mbakwha Cooperative Society respectively, also in December 2009 converted to their personal use, the sum of N4,826,850.00 meant for the procurement of Atlas Copco XAS 47 Air Compressor, Jack Hammer with accessories and Diaphragm Water Pump, to enhance mining activities of members of the cooperative.
The arrest and prosecution of the accused followed a petition dated 23rd September 2010, by Mr. U.I. Adie, project coordinator of Sustainable Management of Mineral Resources Project, an organ of the Ministry of Mines and Steel Development. Mr Adie alleged that the accused fraudulently converted the proceeds of the Grant Fund for purposes other than which they were granted.
The accused pleaded not guilty when the charges were read; and their counsel, James Akor urged the court to admit his clients to bail. But prosecution counsel, Gift I. Odibo, urged the court to be properly guided in granting bail to the accused, saying they were earlier granted administrative bail by the EFCC but refused to honour invitation when they were to appear for further enquiry until they were re-arrested by operatives of the Commission.
Still, Justice Adeniyi granted bail to the accused in the sum of N5 million and one surety in like sum. Besides, the judge ruled that the sureties must be civil servants with proof of residence in the federal capital. They are, however, to be remanded in EFCC custody until the fulfillment of the bail conditions.
While the judge adjourned Maduegbuna and Fakrogha's case till 9th and 10th October 2012 respectively, Cosmos and Paul are to have their day in court on 27th September and 3rd October 2012 respectively.