GMD Yakubu Promises Transparent And Responsible NNPC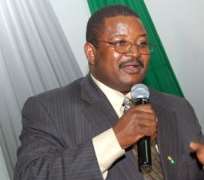 ABUJA, June 29, (THEWILL) – New group managing director of the Nigeria National Petroleum Corporation (NNPC), Andrew Yakubu has vowed to reposition the Corporation by entrenching such values as openness, transparency and responsibility, thereby delivering better service and ending years of negative perception in the eyes of Nigerians.
Yakubu said this on Friday at the State House, Abuja, after Minister of Petroleum Diezani Alison-Madueke's delegation submitted the draft of the Petroleum Industry Bill (PIB) to President Goodluck Jonathan.
"It is a call to service," Yakubu enthused of his appointment. "NNPC is the mainstay of the nation's economy. We must reposition it for better service; we must reposition it to support the economy. We will work very hard with the Nigerian public and all the stakeholders."
He promised a new-look NNPC that Nigerians would be proud of. "We shall be transparent and responsible. We will work towards changing the perception. NNPC staff are dedicated to service and they Are professional, but there are areas of improvement that we can bring to bear," he said.
"You will agree with me that in the recent past, we have had quite a number of challenges. Eyes are on us, on the way we do our business. Those criticisms have been taken note of. My new management will plough them back into the system. We will review our processes and we will reposition NNPC for growth."
An excited Yakubu expressed optimism about regaining the apparently lost confidence of Nigerians, saying his style would be to involve all stakeholders.
He promised that NNPC, under his watch would be "open and transparent"; take in good faith all comments and observations made about it, and bow to advice and constructive criticisms.
Speaking on the PIB, he explained that it would cut across the oil and gas industry, so NNPC, being a national oil company, is equally a component.
"What we will do is to make our own input. Every country will want to grow their asset base, grow their expertise and grow the various key components that will enable them grow in terms of asset and expertise. We will make our own inputs into all those elements to ensure that they are properly captured," he added.