Man Convicted For Illegal Collection Of Pension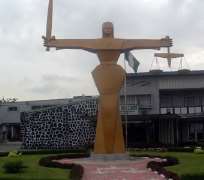 YOLA, June 29, (THEWILL) - Justice Musa Sale Shuaibu of the Federal High Court, Yola, Adamawa state, has sentenced Papa Haziel, 22, to 12 months imprisonment for fraudulently obtaining the sum of N1, 222,316:56 from the Military Pension Board under false pretence.
Haziel, arraigned on a two-count charge, was sentenced without an option of fine. The sentence, however, is to run consecutively.
The accused, who is a bricklayer, was alleged to have claimed to be the son of a retired military officer, Mr. Vatau Haziel, and forged documents with which he drew money from the military pension. During a verification exercise, Papa presented Vatau as a retiree.
When the lid was blown and Vatau was interrogated, he confessed that he was being used for the scam, but Papa insisted that his father was sick and behaving abnormally; and therefore implored that he should not be taken seriously.
Both Papa and Vatau were arrested but later released on bail. Papa was to thereafter claim that his father had died, presenting a document he claimed was the death certificate of Mr. Vatau Haziel. This, again, was later discovered to be another forgery.
Prosecution counsel, Barrister Abubakar Aliyu, in the course of the trial, tendered the forged death certificate, bank statement and instrument purported to have been used to withdraw money — a letter from Military Pension Board — and the reply, as exhibits. He equally tendered EFCC's letter to the managing director of Union Bank, and the reply, as exhibits.
The accused person pleaded guilty when the charges were read to him, blaming the offence on the economic situation of the country. But Justice Shuaibu nonetheless convicted him, saying it would serve as deterrent to others.