House Passes NCC's N48B 2012 Budget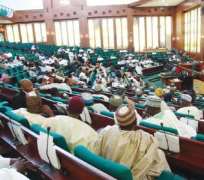 ABUJA, June 28, (THEWILL) - The House of Representatives Wednesday passed for second reading the Nigerian Communications Commission (NCC) 2012 budget.
The total sum of the proposed budget for the 2012 fiscal year is N48.836 billion.
Also, the House threw out a motion seeking a separate privatisation of the Nigerian Telecommunications Limited (NITEL).
The House presided over by Deputy Speaker, Hon. Emeka Ihedioha unanimously endorsed the budget which was presented by House Leader, Hon. Mulikat Akande-Adeola.
Of the amount, N13.959 billion is for recurrent expenditure, N6.308 billion is for transfer to federal government while N10.618 billion is for transfer to the universal service fund.
The balance of N31.909 billion is capital land special projects.
Meanwhile, the House rejected a motion sponsored by Hon. Chris Emeka Azubogu urging the House to investigate the mode of unbundling of NITEL.
Azubogu had in the motion expressed concern that the federal governments failed efforts to privatise NITEL since 2011 following the liberalisation of the telecommunications industry.
He said when the first attempt to privatise the company failed, the Bureau of Public Enterprise (BPE) under the leadership of Malam Nasiru El-Rufai took formal steps to outsource management of NITEL by engaging Pentascope of Netherlands to manage the company.
According to him: "It is becoming unrealistic to expect a fair market value for the full price of NITEL and MTEL as investment conditions in Nigeria and around the world are yet to improve since the capital and financial market crisis of 2008/2009 and 2010."
The motion was however opposed by majority of the members when the Deputy Speaker put it to vote.