Prison Break: Boko Haram Attack Damaturu Prison, Free 40 Inmates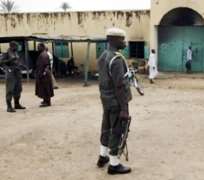 SAN FRANCISCO, June 24, (THEWILL) - Reports reaching THEWILL say members of the extremist group, Boko Haram on Sunday morning around 6 A.M. raided the Damaturu satellite prison on Gashua Road, freeing several inmates.
According to a prison officer, the attackers forced their way into the prison after throwing explosives into the compound and open fire at the guards on duty.
A total of forty inmates were said to have been freed during the jailbreak, while a prison warder was injured and one inmate was killed as members of the Joint Task Force (JTF) engaged the attackers in a gun battle.
Damaturu, the Yobe State capital was already under a 24-hour curfew from recent attacks which have rocked the city.
Members of the Nigeria Police Force in combined efforts with The Joint Task Force (JTF) are currently on the trail of the attackers and freed inmates.