UK-APGA chides Chime over comments on party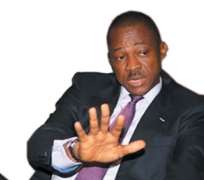 While calling for a change in 2015 general elections, the United Kingdom branch of All Progressive Grand Alliance, UK-APGA, has lambasted Governor Sullivan Chime of Enugu State over the governor's comments that the party is dead as a rolling stone that gathers no moss.
Reacting to this development, the General Secretary of APGA UK Chapter Sir Onyeka Mbaso in a statement said that comment has made APGA stronger and exposed the weakness of People's Democratic Party, (PDP) as a party that does not care for the welfare of the citizens.
He lamented that it is only in Nigeria that the likes of Gov Chime is still relevant in politics with all the scandals hovering over his head.
"PDP is now history in South East because they have nothing to show for their governance in Enugu and other states they are temporarily occupying. The masses are the people that decides who governs them and APGA has become a big threat to PDP in South East Zone.
"An ordinary person on the street will tell that the massive corruption going on in Nigeria today is masterminded by PDP elected office holders.
"Things cannot keep on going like this in Nigeria and that is why we are calling for change in 2015 general election. The youths must decide their fate and be more active. APGA UK Chapter and our parent body in Nigeria will not sit down and watch our democracy to crumble because of some educated illiterates. There must be a change and we must embrace the change for the good of our future generation.
"Real democracy is all about good governance and Gov Chime should know that the youths will no longer be bought over to install PDP in Enugu State. APGA will capture Enugu State in 2015 like ACN did in the west.
"We are urging the youths to vote for APGA to avoid licking their wounds after the general election. All the changes brought in Government around the world was made possible by the youths. We should take a look at the massive developments and Federal presence in Anambra and Imo States, it is evidence of good governance. Lets us stop protecting the party and vote for the right candidate that will deliver the dividends of democracy to our rural communities" Mbaso stated.
According to him, Gov Chime's attack on APGA was a wake up call for Gov Obi to invest more in the party.
"Gov Chime's ranting on Anambra Election in 2014 is not that the masses will vote for PDP but they are hoping on their money bags. The masses will no longer settle for low politics and broken promises from PDP rather we are urging the masses to be more demanding,set our sights on the South East Zone and Nigeria we want for our children, our grand children by voting APGA.
Also speaking, the The BOT Chairman of APGA UK Chapter Sir Jude Ibe while addressing APGA loyalist in London last week said that APGA is the only party that will give hope to Igbo Presidency in 2015.
" PDP has never given a presidential ticket to a South East person and this a clear evidence that the likes of Gov Chime wants to kill the ambition. I think that the real politics has began and APGA UK Chapter is optimistic that APGA will be the tsunami that will sweep Enugu State in 2015.
"We should know that there is no difference between PDP at the Federal level and the PDP in the local wards he said.
"APGA is putting their powerful structures in place for the 2014 and 2015 general elections which we believe that the election will be more credible due to voters exposure.
"The performance of our two Governors has indicated that our contenders will lick their wounds. APGA UK Chapter will continue to advocate and support good governance" he added.