THE HUNT FOR THE NEXT CHOZEN MODEL 2010!!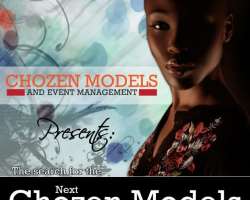 BE SEEN,
BE IDENTIFIED,
BE CHOZEN
Accra, Ghana the search for the next Chozen model 2010 is on the move .It could be you!!!!! Have you got what it takes to become a model? Have you got the passion for an international career? Are you between the ages of 16 and 24 and with the height of 172 cm or above? Chozen model is your final destination. Traditional model searches have been LOCAL and concentrate on major cities only. The search gives everyone in Ghana a chance to be discovered.
Chozen Models and Event Management is one of the newest and fastest growing modeling agencies in Accra, Ghana. With head offices in Toronto, Canada its Director hopes to develop the West African market particular Ghana and ensure the models are prepared for the international market.
Chozen Models has extensive worldwide connections in the modeling industry, which enables us to successfully promote and manage models on an international level with global exposure. Casting and auditions will take place throughout Accra, Koforidua and Kumasi on the following days respectively:
Saturday the 19th of December, 2009 at 11am to 5pm.
Airport West Hotel, Accra.

Saturday, the 2nd of January, 2010 at 11 am -5pm.
Capital View Hotel,Koforidua.

Saturday, the 16th of January, 2010 at 11 am-5pm.
Miklin Hotel,Kumasi.

Come to the casting with little or No makeup, fitted clothes and High heels to explore your talents of becoming the next Chozen model of 2010.
For further Details, please contact:

Salma or Henry
Marketing Coordinator
0243768115/0243727278
Development / Accra / Ghana / Africa / Modernghana.com