24-Hour Curfew Re-Instated In Kaduna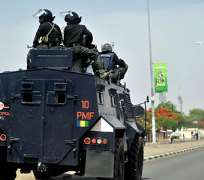 SAN FRANCISCO, June 19, (THEWILL) – The Kaduna State Government on Tuesday re-imposed a 24-hour dusk-to-dawn curfew in the state as renewed violence erupted in the troubled state.
The government had relaxed the curfew on Monday after it managed to restore calm as Christian youths staged reprisal attacks following Sunday's bombings of 3 churches in the state that killed dozens.
Gunshots were heard in different parts of Kaduna today just as Muslims demonstrated and set tyres on fire before razing a church.
The government in a statement announcing the curfew said, "In view of certain new security challenges that came up today, and based on the need for the state government to continue with its responsibility of safeguarding the lives and properties of it citizens, the state government is hereby re- imposing a 24 hours curfew in all parts of the state.
"This curfew covers all the 23 LGs of d state. As unpalatable as this decision is the state government is doing it in the best interest of d state."
"Consequently, everybody is strongly advise to go back home now, while security agencies continue with the task of ensuring total peace in the state" the statement added.