N'kya.... The Launch.... Fashion Show Extravaganza ….Debut Label launch of Miss Sheila Boateng in London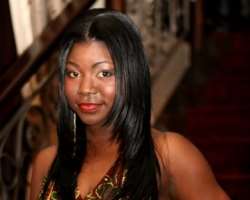 8th November 2009, Barbican London – The African fashion has taken a giant leap to compete with its western counterparts. It's bold unique and authentic.... hence the birth of the Nkya Label pronounced "Nekaya" derived from the twi word "nkyia" which means greetings. This event marked the first stand alone show for N'kya Designs since her conception in 2007
The Label launch was a success with over 150 people in attendance, at The Distillers Bar in London near the Barbican. A ticketed event, there was a wine reception before the show and sumptuous canapés and drinks throughout the night. There were four collections and great models on the runway.... The event launched the career of Miss Sheila Boateng, a self taught designer from Ghana based in the United Kingdom

Miss Sheila Boateng is inspired by her African roots; It started off by her sewing Adinkra symbols cut out of African cloth unto t shirts as a hobby and then blossoming into a career which looks set to transform the African fashion scene. Having participated in previous fashion shows and events she decided to debut her own label
There were 4 collections;
Rhapsody's – Ecstatic expression, brings people's feelings to life
Adornment – Dedicated wholly to the use of embroidery for dresses and separates
Mesh – Nets! Nets! Nets! Funky and quirky with netting detail
Archives – Detailed for the party season to make you stand out.
Various personalities from the fashion community were in attendance at the first stand alone show for N'kya Designs since her conception in 2007. A percentage of proceeds from this spectacular event were donated to Global Mama (www.globalmamas.org) a non-profit organisation which envisions women in Africa to be economically independent.
The event was organised by Miss Sheila Boateng and Akosua Safo of A'S Event management and sponsorship came from: Express funds- International Money Transfer, Orissa- natural makeup for ethnic women, BEN TV, Oneoffpinkribbon and OH TV with Promota Magazine as their media partners.
Some of the feedback; "Well organised and nice designs" Miss Ghana UK 2007, "Very classy and in tune with African culture, Bola Ogungbangbe, Business development Manager Express Funds
Bhimal Hira Orissa Cosmetics "very positive feedback of our products at the event and will work with Nkya Designs in future.
To place an order or subscribe email [email protected] or follow us on Facebook & Twitter
If you would like more information about N'kya Designs, or to schedule an interview with Sheila Boateng please contact Akosua Safo on [email protected]
Development / Accra / Ghana / Africa / Modernghana.com