$3m Bribe: Group Alleges Plot To Remove Tambuwal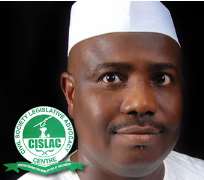 ABUJA, June 13, (THEWILL) - A non-governmental organisation, the Civil Society Legislative Advocacy Centre (CISLAC), has raised alarm over an alleged plot to use the bribery scandal involving chairman of the Federal House of Representatives ad Hoc committee on Fuel Subsidy, Hon. Faruk Lawan, as an excuse to oust the current leadership of the House of Representatives.
CISLAC, in a statement made available to THEWILL on Wednesday, fingered the executive arm of government and some fuel importers who were never comfortable with the way the present leadership of the House of Representatives conducts its legislative business.
"An offence allegedly committed by an individual member should not be used as an excuse to create another crisis in the House of Representatives," the statement, signed by the executive Director of CISLAC, Auwal Musa Rafsanjani, said.
"And if indeed those agitating for the use of an individual's alleged misdeed to oust the present set of leadership of the House are sincere, they should as well call for the resignation of President Goodluck Jonathan for overseeing a regime in which trillions of naira was siphoned in various scams, including the N1.7 trillion subsidy fraud."
CISLAC said it suspected complicity on the part of the Presidency in the current move to remove the House leadership by sponsoring faceless groups to call for the resignation of the Speaker. This move, it argued, is aimed at achieving a twofold agenda of discarding the recommendations emanating from the fuel subsidy probe and removing the leadership of the lower chamber, which the executive had considered too independent and assertive.
"The seventh session of the House of Representatives is arguably the best session of the National Assembly since 1999. The leadership has been honest and meticulous while the House has always sided with the position of the larger population.
"We are witnesses to how the House handled the probe of the collapse of the capital market and quickly disbanded the earlier committee when it emerged that there was dishonesty and bribe allegations on the committee."
The House leadership, according CISLAC, should remain firm, committed and not allow any intimidation and blackmail to deter it from performing its constitutional role.
"Lawmaking, representation, constituency outreach and oversight/probe are functions of the National Assembly as enshrined in the constitution. Therefore, no amount of threat and intimidation should blackmail credible lawmakers from exercising their legislative duties," CISLAC charged.
However, the group urged the House leadership to categorically dissociate itself from any wrongdoing and allow any member involved in any unethical conduct to face the wrath of the law.