Three Trapped As Uncompleted Building Collapses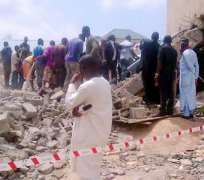 ABUJA, June 13, (THEWILL) - An uncompleted building in Apo Mechanic Site area of Abuja collapsed on Wednesday, sparing the lives of those nearby but trapping three workers at the site.
An eyewitness said the building collapsed early in the morning while work at the site was ongoing. He said the collapse was accompanied by a bang after which a number of people rushed to the scene with shovel and digger to rescue the three people who were trapped.
Speaking for the National Emergency Management Agency (NEMA), Yushua Shuaib confirmed that three people were trapped In the rubble of the building. He said they had been taken to the National Hospital Abuja for treatment.
Residents blamed the site engineer for the collapse, saying the building never looked like it would stand.