Ambassador Nimota Akanbi gets letter of credence to the Netherlands.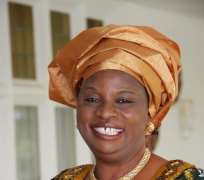 Her Excellency, Dr. (Mrs.) Nimota Akanbi, Ambassador of The Federal Republic Of Nigeria to the Royal Kingdom of the Netherlands was among the newly appointed Ambassadors given their letter of credence by President Goodluck Jonathan in Abuja recently.
These ambassadors are leaving for their various countries of designed to represent Nigeria. For Ambassador Akanbi, she is being retained in the Netherlands for obvious reasons – she has performed beyond expectation with her energetic drive to promote Nigeria and make Nigeria a haven for Dutch investors.
In her first four years in the Netherlands, she attracted both government and private investments to Nigeria; organizing the first ever Nigeria business forum where Governors from various states in Nigeria where invited to the Netherlands to showcase their state.
In return, she has led various Dutch business interests to Nigeria and she is still much interested in trade partnership for Nigeria development. Her reappointment is not surprising to many Nigerians living in the Netherlands. According to Dr. Oliver Nwankwo, the Chairman of the NAN-L, Ambassador Akanbi is pragmatic lady whose drive is Nigeria's progress; she wants to see Nigerians succeed and she encourages hard work and commitment of Nigerians to the progress of their motherland.
On her part, she told thenigerianvoice.com that her reappointment by His Excellency, President Dr. Goodluck Jonathan is humbly and challenging for her to carry on the positive policies of His Excellency which is to promote peace, equality among Nigerians, attract investments to Nigeria and to defend the interest of Nigerians living in the Netherlands.
She pledged to continue to work closely with Nigerians through various institutions that represent them like the NAN and NIDOE and other professional, religious and social organizations to ensure that Nigerians in the Netherlands are well respected and they are able to contribute to the development of Nigeria.
President Goodluck Jonathan on his part while presenting letters of credence to the Ambassadors gave them a marching order, ' to protect Nigerians in their countries of posting as well as to attract more investment to Nigeria'.
President Jonathan urged the ambassadors to forge a common front and de-emphasise ethnic associations for the greater feeling of oneness. He told them to give higher priority to promoting democracy and good governance while at the same time pursuing multilateral diplomacy to the benefit of Nigeria in an ever-changing world.
He said: "You are assuming office at a critical period in Nigeria's developmental history. As you prepare to depart to your countries of accreditation, you must always bear in mind that our foreign policy must reflect the aspirations and priorities of a democratic Nigeria".
"Economic diplomacy and Africa remain at the centre of our foreign policy agenda. In this respect, your responsibility to attract investments into the country and open up markets for our local goods and services cannot be over emphasised.
"Defending the interests of Nigerians living and operating lawfully in your countries of accreditation must be seen as a primary assignment.
"Protecting their interest through greater and more efficient consular support is also a priority to which you must remain fully committed.
"Increasingly, the Diaspora is shaping the growth and development of nations. Ours should not be different. We have a vibrant Diaspora that you need to constantly engage with so that it can effectively support and make contributions to national development, especially in the areas of finance, ICT and intellectual property."
"In such an environment, only a dynamic, confident and proactive foreign service can effectively and efficiently serve Nigeria's interests.
"To build and sustain a corps of staff that can excel, the Ministry of Foreign Affairs must accord priority to recruiting the best and ensuring the regular training of its diplomatic agents.
For Ambassador Mrs. Akanbi she has not for short of enthusiasm for her beloved country; she is in the forefront of the African Missions in the Netherlands with her face and present prominent in every gathering promoting the Nigerian agenda.
Recently she played host to the Governor of Kwara state whom she had organised a three day business forum to market Kwara state to Dutch investors. The visit was a huge success and many Dutch businesses are regularly seeking visa to travel to Nigeria for business. It is a sense of improved relationship with the Dutch business community.
By Elvis Iruh, Editor-in-Chief, The Voice magazine published in the Netherlands
President Goodluck Jonathan
Ambassador at African Day function recently in Den Haag
Gift presentation to Governor Ahmed of Kwara State by Ambassador Akanbi during his visit recently
Governor Ahmed of Kwara state & Ambassador Akanbi at the Hague during an investment forum