AN OPEN LETTER TO GOVERNOR FASHOLA OF LAGOS STATE.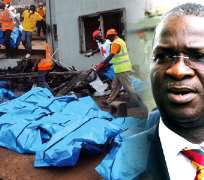 Dear Governor Fashola,

The body of our late brother, Jones Ifekawa, was the 12th body identified and documented among the bodies retrieved from the crash site of the ill-fated Dana Airlines plane that crashed on Sunday, June 3rd, 2012. Our sister, Jennifer Ifekawa, identified his remains on Tuesday, 5th June, 2012, at the Lagos University Teaching Hospital, Ikeja. According to her, Jones' identity card, wallet, and other small personal items were still in his pockets at the time she identified his body. His body was not burnt and his shirt and trousers were intact. Apart from bleeding from his nostril and ears, his face was intact, and so she made a positive identification of his body which was confirmed by the hospital officials on that Tuesday. The hospital officials, thereafter, put a name tag with his name (Jones Ifekawa) on the body bag.
Jennifer and other members of our family have been to the Teaching Hospital everyday since that Tuesday, trying to claim the body of our brother as we have been making arrangements to give him the befitting burial he deserves, but on Thursday, June 7th, they were told that Governor Fashola of Lagos State had instructed the hospital not to release any remains to anybody again. They were told that the Governor had ordered DNA tests to be carried out to ensure the true biological relationship between the family members and the bodies they were claiming.
On Friday, June 8th, our sisters, Jennifer and Joan, went to the hospital and submitted mouth swabs to the hospital officials for the DNA. They were also notified that Governor Fashola would have a meeting with all the families making body claims on Sunday, June 10th. On that Sunday, when they went for the meeting, you, Governor Fashola, told them that you had instructed the hospital to release all bodies duly identified so far to their families. However, our family was shocked beyond belief when our sister Jennifer, nephew Kelvin Adeshakin, and Jones' girl friend, Nnennea Okroro, went to the hospital on Monday, June 11th, only to find out that Professor Obafunwa, the VC of LASU, who is in charge of autopsy at the teaching hospital refused to release the body of our brother, Jones Ifekawa, to us. He claimed that two other families were also making claims of our brother's body.
They were so devastated to find out that Professor Obafunwa and his team had removed all his clothings, including the underpants that our sister Jennifer had positively identified on his body as the one she had given as a gift to him, and which he was wearing on the day of the crash. Even all his personal identification documents that were on his body had disappeared, together with the name tag that was put by the hospital officials on his body bag on the day our sister Jennifer first identified his body. But even with all these things gone, our sister Jennifer, nephew Kelvin, and Jones' girlfriend, Nnenna, were still able to identify Jones' body by his face, which is still intact, though swelling by the day. We do not know why Professor Obafunwa is refusing to release our brother's copse to us when he had secretely released six bodies without the knowledge of the public to selected families on Saturday, June 9th, even before you, the Governor, gave the go ahead to resume releasing identified bodies to their families.
Dear Governor Fashola, please, we appeal to you in the name of the God you serve to prevail on Professor Obafunwa to release the body of our little brother, Jones Ifekawa, to us so that we can bury him peacefully and save our aged mother from this continuing sorrow. Our mother, Rose Ifekawa, had 5 of us girls before having our two brothers last. The first one, Peter Ifekawa, died last year, May 2011, in an oil ship explotion on the sea, and our family did not see his body to bury. Now (within 13 months), our last and only remaining brother, Jones Ifekawa, has died in a plane crash, and Professor Obafunwa is planning to sell his body to those with bagfuls of money. Or is it that he is waiting to give our brother's corpse to the highest bidder? God, why are people so wicked and heartless? Why does Professor Obafunwa want to sell our brother's remains to body buyers?
Jones Ifekawa's body was identified thrice by our family members - at the crash site and at the teaching hospital. His body was and is still number 12 on the identified list. Please, dear Governor Fashola, do not allow Professor Obafunwa to sell our young brother's corpse. In the name of God, please tell Professor Obafunwa to give us our brother's body so that we can give him a proper burial, and save our mother and ourselves from this agony.
Thank you,

For and behalf of the Ifekawa family:

Written By Mrs. Josephine Onyia (nee Ifekawa)

Disclaimer:

"The views/contents expressed in this article are the sole responsibility of

thewillnigeria.com

and do not necessarily reflect those of The Nigerian Voice. The Nigerian Voice will not be responsible or liable for any inaccurate or incorrect statements contained in this article."
Articles by thewillnigeria.com