Loss Of Innocent Lives Worries Ndoma-Egba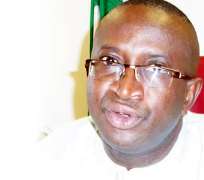 ABUJA, June 10, (THEWILL) - Leader of the Senate, Senator Victor Ndoma-Egba, has raised alarm over the rate of wastage of innocent lives in the country due to the unending wave of shootings and bombings in the northern region of the country..
In a statement released by his office on Sunday, Ndoma-Egba described as appalling, the spate of mass murders, which have become the order of the day in the country. He noted that the killing of innocent worshippers at a church in Jos, at a time when the country is still mourning the loss of over 160 people in last week's Dana Airline plane crash, is the height of insensitivity to human emotions.
"No religious or moral teaching can justify hate and a culture of violence as standard for human behaviour," the statement said in reference to the Jos attack. "An attack on worshippers is a crime against humanity and the sublime essence of God."
The statement noted that although the country had narrowed the criminal activities to the Boko Haram Islamist sect, a time might come when it will need to expand its searchlight and come up with fresher theories.
"Nigeria must move on; and no matter what the grievances of these people are, they need to exercise restraint. I believe that resolving those grievances can only happen when Nigeria is one united country," he said.
"The serial killing of innocent worshippers is an action tantamount to crime against humanity and the sublime essence of the Most High God. No religion or moral teaching condones hate and a culture of violence as a standard for human behaviour."
The statement also condoled with families of those involved in the attack, saying that, "only God can console the hearts of such families."