Wall Street Pares Early Gains On Bernanke Comments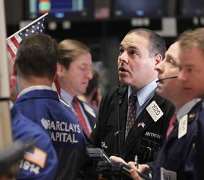 Stocks rose on Thursday after China's central bank cut lending and deposit rates, but indexes were well off their session highs as comments from Federal Reserve Chairman Ben Bernanke disappointed hope for further stimulus measures from the central bank.
The surprise move by China's central bank to lower benchmark interest rates by 25 basis points in an effort to rejuvenate economic growth came after comments by Federal Reserve officials increased investor expectations for more Fed support.
In comments on Wednesday, Atlanta Fed President Dennis Lockhart and vice chair Janet Yellen led investors to become optimistic about the possibility of more easing ahead, due in part to the effects of the euro-zone debt crisis.
But the jump in stocks at the open faded as Bernanke told Congress the central bank was ready to take action if financial troubles increase, and he gave no hint of an imminent stimulus plan.
"People had built up this hope that something significant was going to happen, and perhaps, that was disappointing," said Stephen Massocca, managing director at Wedbush Morgan in San Francisco.
"But the real news this morning is the Chinese are lowering interest rates, and it looks like Germany is starting to cave on this unwillingness to support peripheral euro countries."
The rate cut in the world's No. 2 economy helped boost U.S. companies linked to China's commodity-hungry industrial complex. U.S. Steel Corp (X.N) climbed 1.1 percent to $20.25 percent, and miner Freeport-McMoRan Copper & Gold Inc (FCX.N) edged up 0.6 percent to $33.87. The S&P Materials index .GSPM gained 0.6 percent.
The Dow Jones industrial average .DJI gained 70.08 points, or 0.56 percent, to 12,484.87. The Standard & Poor's 500 Index .SPX rose 3.33 points, or 0.25 percent, to 1,318.46. The Nasdaq Composite Index .IXIC shed 1.89 points, or 0.07 percent, to 2,842.83.
Germany's government and main opposition agreed on the outlines of a proposal for a European financial transaction tax, which could pave the way for parliament to approve a fiscal pact and permanent rescue plan for the euro zone.
Spain managed to raise more than 2 billion euros at a bond auction, tempering fears it is being cut off from financial markets, although it had to pay a heavy price to borrow the funds.
Stocks jumped more than 2 percent in the prior session, coming on the heels of a decline of more than 6 percent in May. The index appeared to successfully bounce off its 200-day moving average, a key technical support level.
Shares in Navistar International Corp (NAV.N) plunged 25.1 percent to $21.08 after it posted a second-quarter loss as a warranty reserve to repair early 2010 and 2011 vehicles drove up costs, and the truck maker cut its full-year earnings outlook.
Health insurer Molina Healthcare Inc (MOH.N) recalled its 2012 earnings guidance, citing uncertainties regarding medical costs in Texas, sending its shares down 30 percent to $18.03.
REUTERS