THE REAL HOUSEMATES OF CORRUPTION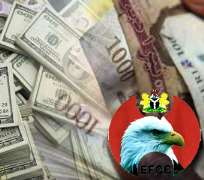 Let's admit it. Nigerians know the locale residency of corruption. It resides with and about us with such grotesque prevalence that the Economic and Financial Crimes Commission's (EFCC) nationwide hunt for corruption is anything but baffling. Truth be told, the EFFC lacks strong enforcement mechanism and structure to effectively evict the practitioners of corruption.
For many societies, life pressures such as fear of future, job insecurity, age-health worries and retirement abilities, drive people to struggle for more than just satisfying basic needs. Often, such ambitious challenges can inspire better professionalism or entrepreneurships. Perversion of this simple process is manifest in the looting binge in public and private sectors of Nigerian society, a primordial fear of the uncertainty for the next meal. Even when the "next meal" is assured, the looting continues for its bare psychotic pleasure. Of great importance, is the fact that such lucre is usually channeled towards the acquisition of luxury items for self-aggrandizement.
Asking tough questions about corruption will always lead to the doors of identifiable collaborators, such as Banks, real estate agencies, car dealers and Bureau De Change firms. No one can shine a better light on the darkest recess of corruption in Nigeria than such collaborators. In tightening the noose on money laundering, the West realized that in a post-911 world, the possible abominable consequences of "unregulated money" far outweighed any economic gains. In their 2009 London communiqué, the Group of 20 leading economies (G20) equivocally declared "the era of banking secrecy is over." Even, tax havens for legitimate earnings of the rich continue to receive significant attention.
Beyond making glitzy declarations, many countries have in place, law enforcement snares at the gateways to honey pots that are draws for proceeds of corruption such as Banking, Real estate agencies, Car dealers and other big-ticket items retailers. Unless you possess the imprudence of the Andy Ubas ($91,262.50 Cash for Mercedes Benz car SL500), paying cash for big tickets items, especially in the United States, is the quickest way to invite hard-nosed law enforcement authorities to join your "overnight" success party. Do planting traps at such gateways to honey pots really help stem corruption?
Evidently it does. With strong financial reporting structures, most G20 countries simply 'follow the money' trails to catch financial criminals, especially if their financial snares are sprung by unusual activity. This is why the cashless policy drive of the current governor of Central Bank of Nigeria (CBN), Sanusi Lamido Sanusi, is a positive note in combating corruption. It would be a rare feat to find any significantly monetary heist in government or business that is opaque to most bank managing director or executive directors as the funds move through the banks.
Whatever the motives or deposit drive, Nigerian banks have wandered too far into the murkiest swamp of corruption for any pill-popping rescue. _ _Mrs. Farida Waziri, former EFFC chairperson, recently told us what we already knew; that banks,_ "want funds at all cost, they collude with fraudulent public officials to warehouse monies not minding how the money was made, and allow indiscriminate withdrawals without regards to fiscal regulations. Whether they are from dead bodies, they do not care as long as the monies are in their accounts. Without that bank collusion, they could not have stolen these billions, it is the banks and they knew it."_
Most Bureau De Change firms operate in Nigeria with a business model that defies critical indices in terms of real contribution to the national economy. However, attempts to pry open their contribution or lack thereof to the economy is decried as a tribalistic undertaking to "heat up the polity". Whatever that means, what is undeniable is that few cases of gargantuous fraud in Nigeria, have ever been unearthed that did not find a mention of Bureau De Change operators.
No matter the elaborate designs to obscure identities, property purveyors know their clients pretty well. They well versed in the location and grandness of client's properties that may be products of corrupt enrichment. They know their positions in government or private sectors. They are conversant with the stories of how dirty deals or contracts suddenly threw up enough monies for their clients to afford multi-billion Naira estates. Yet, such information is battered in whispers, like a cursed knowledge that must not see daylight. Car dealers are no exception. Perhaps, for lack of reporting regulations and ruinous business consequences, car dealers appear to be self-sufficient with regards to disclosure to authorities, transactions that rink sky-high of sleaze. In sharp contrast, Car dealers in the _United Stated must comply with over 85 different federal regulations, and states have additional and differing regulation,_ with a critical component of reporting suspicious cash transactions to authorities.
A discombobulating fact is that the federal government/EFCC appears to neglect this all important deterrent and effective tool of stemming corruption. Or perhaps, government is yet to realize a shouting fact.
Come rain or shine, today or generations from now, illicit proceeds will always find guidance towards the acquisition of properties in high brow areas, high-end cars, expensive Jewelry, chieftaincy titles (yes, it's now on the auction block!) and other big-ticket items that are venerated in our society.
Until government extends tough financial regulatory reporting to active collaborators of corruption and money laundering, the current shadow boxing of corruption is bound to always yield the same sterile results.
Written By Emma Adoghe

Disclaimer:

"The views/contents expressed in this article are the sole responsibility of

thewillnigeria.com

and do not necessarily reflect those of The Nigerian Voice. The Nigerian Voice will not be responsible or liable for any inaccurate or incorrect statements contained in this article."
Articles by thewillnigeria.com