Court Restrains INEC From Using Collapsible Ballot Boxes For Edo Polls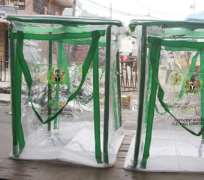 ABUJA, June 05, (THEWILL) - The use of collapsible transparent ballot boxes for the 2011 general elections by the Independent National Electoral Commission (INEC) without the consent of the owner of the patent right to the boxes is illegal, a Federal High Court sitting in Abuja declared on Tuesday.
Presided over by Justice Bello, the court also barred the electoral body from using the boxes for subsequent polls, including the July 14 Edo governorship elections, without first seeking the approval of the patent owner.
Justice Bello issued the orders in a judgment delivered in a suit filed by Bedding Holdings Limited, an indigenous company, challenging the use of the boxes for the elections.
The plaintiff had approached the court claiming to possess subsisting, exclusive and bona fide patent right to the collapsible transparent boxes used by INEC for the conduct of the 2011 polls.
The company, which specialises in general fabrication and manufacture of steel metal products, said the collapsible transparent ballot boxes were among many of its duly registered innovations, with exclusive patent right from the Registrar of Patents in the Federal Ministry of Commerce and Industry.
It will be recalled that the Federal Executive Council (FEC) on November 24, acting on an INEC memorandum, had approved contract for the procurement 150,000 units of the ballot boxes at the unit price of N13,000, and a total sum of N1.950bn, to one EMCHAI Ltd.
But Bedding expressed shock that INEC employed fraudulently and falsely contrived documents to successfully seek and obtain the ratification of FEC for the award of the contract of yet another 150,000 units of the collapsible transparent ballot boxes without the prior consent, license and authority to the rightful owner of the patent and copyright design
In his judgement, the judge held that the patent right of the plaintiff over the ballot boxes took priority over the subsequent registration issued to EMCHAI.
"Any action or actions whatsoever and howsoever taken or purported to have been taken by INEC and other defendants relating to the ballot boxes without the prior and express licence, consent, authority and approval of the plaintiff is unconstitutional, illegal, unlawful and therefore Null and void," the Judge held.
He also granted all the reliefs sought in the suit on the ground that the facts and evidence preferred by the plaintiff were neither controverted nor denied by the defendants.
But he struck out the name of the attorney-general of the federation and minister of justice as fifth defendant to the suit, saying his office was unconnected in any way to the reliefs sought by the plaintiff.