NEMA Presents Relief Materials To Rainstorm Victims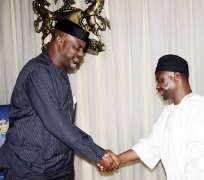 CALABAR, June 01, (THEWILL) – The National Emergency Management Agency (NEMA) has presented relief materials worth millions of naira to the Cross River State Government for distribution to communities devastated by rainstorm in the state.
Director General of NEMA, Alhaji Mohammed Sani Sidi made the presentation of building materials to Governor Liyel Imoke during a courtesy visit in Calabar.
Sidi explained that his visit was not only to distribute relief materials to the designated 13 local government areas, but also to undertake an advocacy visitation to strengthen the relationship between NEMA and the state in tackling environmental and natural disasters.
He explained that NEMA would continue to support the state in order to bring succour to victims of disasters by bringing relief supplies to affected communities. He also commended Imoke for his administration's support and cooperation with the State Emergency Management Agency (SEMA), thereby placing it first amongst its equals across the country in response and intervention to disasters.
Sidi called for the formation of Local Government Emergency Committee (LEMC) at local government levels to complement efforts of the state government, and promised to ensure that its functions are equally felt at such levels.
He congratulated Imoke for the various achievements and programmes the state has recorded in road construction, renovation of schools and hospitals, and provision of water supply, saying they are a reflection of good leadership.
Responding, Governor Imoke commended the new leadership of NEMA for initiatives put in place, which according to him, have launched the agency into a new phase and a new dimension. He thanked Sidi for the prompt response that the state receives from the agency.
He maintained that through NEMA's support and partnership, SEMA has been able to reach communities in need.
On the formation of Local Government Emergency Management Committee in the state, he assured that such intervention mechanism at that level would soon be put in place.
He appealed to NEMA for assistance to enable the state undertake the resettlement of the devastated Ebijakara Community in Abi Local Government Area, just as it did in the resettlement of Nsadob community in Boki Local Government Area.