House Set To Investigate Malabu Oil Deal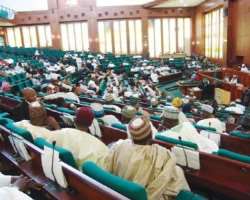 ABUJA, May 31, (THEWILL) - The Federal House of Representatives on Thursday resolved to commence investigations into the alleged round tripping of proceeds in the sale of the contentious OPL 247 in favour of Malabu Oil and Gas Limited.
The Lower Chamber will be hoping to clarify the roles played by the federal government and two oil giants, Agip and Shell, in the transaction.
An ad-hoc committee is due to be constituted to immediately investigate all aspects of the transaction and submit a report to the House within three weeks.
Recent media reports have fingered top presidency officials of complicity in the financial heist, following the out-of-court settlement between the listed parties, and the subsequent payment of $1.1 billion to Malabu Oil and Gas.
The House took the decision following a motion by Hon. Robinson Uwak (Akwa Ibom/PDP), who alerted the House of the negative publicity generated both locally and abroad by the transaction, and its damning consequences for the country's long-term image and credibility.
While moving the motion, Uwak said that there was substantial ground for investigation into the alleged indignity, in order to determine if there have been violations of local codes of conduct and anti-corruption laws in the course of the transaction.
"There was a purported sale of OPL 245 to Shell/Agip consortium for the sum of $1,092,000,000, and the immediate transfer of the entire amount to Malabu Oil and Gas Limited, an indigenous oil company, as compensation for its alleged prior interest in the oil bloc," he said. "From available reports, the ethical and legal issues surrounding the transaction have further been compounded by the pattern of distribution of the proceeds of this sale."
Reports alleged that Malabu oil wired over $500 million to various accounts linked to top government officials immediately it received the $1.1 billion for its stake in OPL 245.
Earlier in the week, attorney general of the federation and minister for justice, Mr. Mohammed Bello Adoke (SAN) had dismissed allegations of his involvement in the scandal, insisting that the federal government and its agencies were mere facilitators who worked towards the resolution of the long-standing dispute between Shell, ENI and Malabu, in line with an earlier agreement reached between the parties and government.
Malabu Oil is owned by Mr. Dan Etete, a former petroleum minister (during the military administration of late General Sani Abacha), whom a French court convicted a few years ago for money laundering.