Military Explains Role In Botched Rescue Of Kidnapped German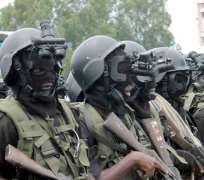 … Says Terrorists Killed Hostage

KANO, May 31, (THEWILL) – The Joint Military Task Force (FTF) has thrown more light on what many believe was a botched rescue operation, conducted today near the new campus of the Bayero University Kano, where it said senior terrorist commanders were meeting.
Recall that Edgar Fritz Raupach, who was kidnapped in Kano in January by terrorists, linked to Al Qaeda was killed during the raid and it is not clear whether the military knew he was being held at the location before it executed the operation.
So far, three abducted foreigners including one Briton and one Italian have been killed following unsuccessful rescue operations.
A statement from taskforce spokesman, Ikedichi Iweha obtained by THEWILL, explained the operation and how Edgar may have died.
The statement reads in full:

"At the early hours of this morning (31/5/2012) precisely at about 0635 hours, based on intelligence of an ongoing meeting of senior commanders of the terrorists elements, the JTF raided an enclave near Bayero University Kano new site, where the terrorists senior commanders were meeting.

"On sighting the security forces, the terrorist elements opened fire and threw Improvised Explosive Devises on the security forces. The security forces responded immediately resulting in a gun duel that lasted for about thirty minutes. During the encounter five of the terrorists were killed.
"Upon search of the premises the security forces, found the hand cuffed gruesomely murdered corpse of an expatriate, later identified as the German national, Mr. Egder, who was kidnapped since January 26rd 2012 along Zaria bye pass Kano. The German was apparently killed by the terrorists on noticing the security forces.
"During a further search of the terrorists' hideout, the security forces recovered 2 AK 47 rifles, huge quantity of ammunition. 36 hand grenade and Improvised Explosive Devices stored by the terrorists for possible attack against innocent persons and security personnel.
"The JTF would want to reassure members of the international community and the general public of the determination of the security forces to protect lives and properties of law abiding citizens. We also continue to thank the good people of Kano for their co-operation by providing prompt information to the security agencies bordering on public safety."