Rivers Government Colluded With Soldiers, Cultists To Ransack Ogoni Village, CLO Alleges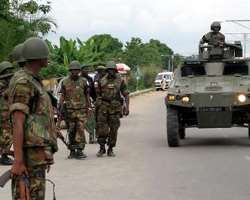 PORT HARCOURT, May 31, (THEWILL) - The Rivers State wing of the Civil Liberty Organisation (CLO) has accused the Rivers State government of colliding with cultists and soldiers attached to the Joint (Military) Task Force (JTF), Operation Pulo Shield, to invade the village of Zor-Sogho community in Khana Local Government Area.
Styvn Obodoekwe, chairman of the state branch of the rights group revealed that "cultists and arsonists allegedly recruited by a traditional ruler, King Nzidee and his son, Mene Ale Nzidee both from Lusue Community, a neighbouring community to Zor Sogho ... aided by men of the JTF were said to have been instructed by the state government, headed by Rotimi Amaechi, to sack the community to enable the government take over their land for a banana plantation to be carried out by a foreign private company against the consent and wish of community members."
He disclosed that the CLO learnt late last month that soldiers and cultists overran the rural community, shooting sporadically and burning down houses, leading to serious injuries to many people.
"A day after the first attack, armed security operatives from the JTF providing cover for the cultists, ensured that the people were prevented from saving their houses from being destroyed," Obodoekwe wrote in a press release to THEWILL. "They were chased away with guns while the arsonists had a field day."
He added that the JTF, on the third consecutive day, stormed the community in two buses and embarked on the mass arrest of innocent people. "Over 30 persons were said to have been whisked away. It is not certain where they were taken to, although there are rumours that some of them may have been taken to the prison for detention," he added.
When contacted on phone, acting spokesperson of the 2 Brigade, Port Harcourt, Captain Sunny Samuel courteously said that he preferred for journalists to come to his office to investigate the allegation.
The CLO, while asking for the unconditional release of those arrested, had expressed serious concerns about their safety and freedom, describing their mass arrest as a "flagrant violation of their fundamental human rights," adding, "We are also concerned about the invasion of Sogho because of the governor's desperation to take over their land."
The CLO statement also expressed worries that government and security operatives chose to team up with terrorists to be harassing the citizens they ought to be protecting, maintaining that "it is only in this society that criminal elements team up with the government to terrorise the citizenry with impunity."
He lamented the desperation of government to expunge the people from their domain in order to "grab their lands for private use."
Spokesperson to the governor, Mr. David Iyofor, was contacted on phone but he did not respond after several hours. He also did not reply an email sent to him to give the government's side of the story.