German Hostage In North Nigeria Killed During Rescue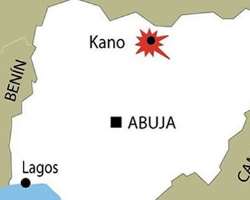 * Witness says German, some kidnappers killed
* Al-Qaeda linked group had claimed abduction
* Kidnapped Italian, Briton killed in rescue bid in March
A German man held hostage in northern Nigeria by a group linked to al Qaeda has been killed during an attempt by Nigerian forces to rescue him, a witness and security sources told Reuters on Thursday.
Edgar Fritz Raupach was kidnapped in the north's main city Kano in January. A group claiming to be al Qaeda's north African wing said in March it was holding him and demanded the release of a Muslim woman imprisoned in Germany in exchange for freeing him.
"I saw some corpse inside the military vehicle after the raid at Danbare Quarters close to the new site campus of Bayero University," Ibrahim Mohammed, a civil servant in Kano told Reuters by phone.
"It is not only the German that was inside the vehicle but that of the kidnappers too, the military blocked all entrance to the area during the raid."
Kidnapping of foreigners has become a common tactic of al Qaeda's north African wing, Al Qaeda in the Islamic Maghreb (AQIM), which operates out of Nigeria's neighbour Niger, as well as Mali, Algeria and Mauritania, and which officials believe has links with Nigerian militants.
A British and an Italian hostage were killed in Nigeria in March in a failed rescue attempt. They had appeared blindfolded in a video that said they were being held by al Qaeda.
But the two men were later found northwest Nigeria, and security sources said they had been held by a faction of Nigerian Islamist sect Boko Haram, which has been blamed for killing hundreds in northern Nigeria this year.
Boko Haram has increasingly moved into Kano, a city of around 10 million people in the central north of Nigeria, from its home base Maiduguri in the northeast. A coordinated series of gun and bomb attacks killed 186 people in January.
Some Boko Haram members are known to have received weapons and training from al Qaeda in the Islamic Maghreb, but security experts say the groups still have separate command structures.
REUTERS