Wall Street To Open Slightly Lower After Jobs, GDP Data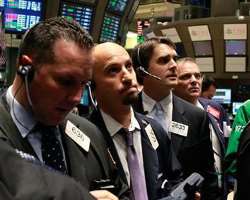 U.S. stocks were set for a slightly lower open on Thursday, after data pointed to an economy that may have stalled while investors grapple with the euro zone's debt crisis.
A report by private payrolls processor ADP showed private employers created 133,000 jobs in May, fewer than the expected 148,000 while new claims for unemployment benefits rose by 10,000 for the fourth straight weekly increase. The data comes ahead of Friday's key payrolls report.
Commerce Department data showed economic growth in the United States was slightly slower than initially thought as gross domestic product was revised down to a 1.9 percent annual rate from last month's 2.2 percent estimate.
"The markets have become less optimistic and much more accustomed to seeing numbers that are just not impressive," said Peter Kenny, managing director at Knight Capital in Jersey City, New Jersey.
"It is clear the markets are pricing in a substantial slowdown moving forward in terms of GDP growth, employment gains, productivity gains - it's not encouraging for bulls."
The S&P 500 .SPX fell 1.4 percent on Wednesday, its biggest decline since May 17, as anxiety over the euro zone's fiscal crisis sent investors away from riskier assets and into safe havens such as U.S. Treasury bonds. The CBOE volatility index .VIX, a gauge of market anxiety, jumped 14.8 percent, its largest daily gain in almost three months.
European shares, which had steadied, turned negative after the U.S. data. The FTSEurofirst 300 .FTEU3 was off 0.1 percent. .EU
The European Central Bank increased pressure for a joint fund to guarantee bank deposits in the euro zone, saying the region needed new tools to fight bank runs as the bloc's debt crisis drives investors to flee risk.
The benchmark S&P index is on pace for its worst monthly decline since September on increasing concern over the euro zone's debt crisis and a spate of tepid domestic economic data.
U.S. equities have been closely linked to the fortunes of the euro, with the 50-day correlation between the currency and the S&P 500 at 0.92. Expectations of an Irish vote in favor of Europe's fiscal pact helped the euro recover from a near two-year low against the dollar.
S&P 500 futures rose 2.1 points and were just below fair value, a formula that evaluates pricing by taking into account interest rates, dividends and time to expiration of the contract. Dow Jones industrial average futures rose 21 points and Nasdaq 100 futures rose 1 point.
Other data on Thursday includes the May index of manufacturing activity from the Institute for Supply Management Chicago at 9:45 a.m. (1345 GMT). Economists in a Reuters survey forecast a reading of 56.5 compared with 56.2 in April.
Retailers will be in focus as they report monthly same-store sales results. Several top retailers reported stronger-than-expected sales in May, as shoppers overcame growing anxiety about the U.S. economy and the job market.
Target Corp (TGT.N) advanced 0.7 percent in premarket after posting better-than-expected May same-store sales.
Ciena Corp (CIEN.O) climbed 5.4 percent to $12.49 in premarket after the network equipment company posted a surprise second-quarter adjusted profit.
Joy Global Inc (JOY.N) slipped 4 percent to $56.70 premarket after the mining equipment maker said it expects order rate to moderate and revenue to remain flat for the next few quarters.
REUTERS