Africa: Assistant Secretary of State for African Affairs Johnnie Carson To Travel to Istanbul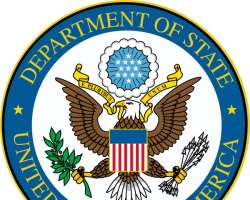 Africa: Assistant Secretary of State for African Affairs Johnnie Carson To Travel to Istanbul
WASHINGTON, May 31, 2012/African Press Organization (APO)/ -- Media Note
Office of the Spokesperson
Washington, DC
May 30, 2012
Assistant Secretary Johnnie Carson will be in Istanbul, Turkey from May 31 to June 2, 2012.
He will participate in the Istanbul Conference on Somalia on June 1 and meet with officials from Turkey, the United Kingdom, Kenya, and Somalia. At the Conference, Assistant Secretary Carson will work with our international partners on ways to support Somali leaders as they work to complete the political transition on August 20, 2012. Assistant Secretary Carson will return to Washington on June 2.
Learn more about the activities of the Bureau of African Affairs at the Department of State at: http://www.state.gov/p/af/index.htm. Follow us on Facebook and Twitter at: http://www.facebook.com/DOSAfricanAffairs and http://twitter.com/#!/AFAsstSecy.