Forty Killed; Policemen, Village Head Beheaded In Communal Clash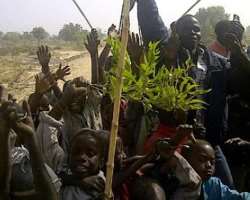 UYO, May 30, (THEWILL) – More than 40 people have been reported killed and properties worth millions of naira destroyed in a renewed communal clash between Ntan Obu Ukpe community in Cross River State and Ikpanya community in Akwa Ibom State.
The two communities have, for decades running, been engaged in a bloody land dispute.
A source close to the communities warring over a shared boundary told THEWILL that in Wednesday's renewed clash, four mobile policemen and the head of one of the villages were beheaded. Properties damaged in the disaster include churches, residential buildings, domestic animals and economic trees, among others.
THEWILL also gathered that more than 3,000 people from both communities are now taking refuge in nearby communities, as there is still tension in the border of the two communities.
Unconfirmed reports indicate that Fulani herdsmen were used as mercenaries by one of the communities, resulting to the high number of casualties recorded in the crisis.
The major reason for the recurring crisis is the desperation of each community to acquire and occupy the lands in the area, which are rich in mineral resources and are fertile for agriculture.
The source, an indigene of one of the communities who spoke to THEWILL anonymously, disclosed that one of the communities recruited Fulani herdsmen to assist them in invading the other camp.
He said the crisis was unnecessary, as there is a subsisting Supreme Court judgment that handed over the disputed area to one of the communities.
Public Relations Officer of the Police in Akwa Ibom State, Mr. Sunday Dickson confirmed the incident, disclosing that commissioners of police from both states have visited the affected communities.
To ensure genuine reconciliation, the PPRO said that the Police have not made any arrest to avoid aggravating the already tensed atmosphere, but it has deployed both regular and mobile policemen to the communities for enforcement of law and order.