Harvard Threatens To Bar Nigerian Legislators From Exchange Programme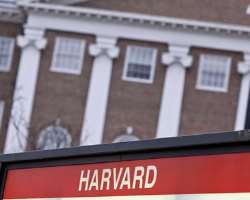 ABUJA, May 30, (THEWILL) - Renowned United States institution, Harvard University has threatened to reject Nigerian lawmakers for its legislative exchange training at the U.S. Congress due to chronic absenteeism of nominees for the programme.
Deputy Senate President, Ike Ekweremadu disclosed this at the interactive session between chairmen of committees in the House of Representatives and the National Institute for Legislative Studies (NILS)s, saying the university had written to them to state its intention.
"Harvard has written that it will no longer accept nominees coming for exchange programme at the US Congress. In most cases lawmakers nominated for the programme do not attend," Ekweremadu, who is also the chairman, Governing Council, of the NILS said. "There was an instance when I had a programme at Oxford with some of our colleagues. They never showed up until the last day; they came there and wanted to ... Of course they refused, so it's happening."
He revealed at it was an issue that lasted six months at the US Senate before a solution could be agreed. "They said each time we send people, they don't come. So they said they won't accept any nominees coming for exchange programmes with the US Congress. But we are able to resolve that."
He then appealed to his colleagues attend the programme if they are nominated or communicate inability to attend to the leadership of the Senate. "A situation where you don't show up is very embarrassing and doesn't speak good of us," he added.
He also said that plans were underway to ensure that erring lawmakers are sanctioned henceforth.
"Those who don't attend seminars, we must try to bring about some kind of sanctions to ensure that we get our colleagues to attend. And if they cannot attend, give the space for those who can attend."
In her contribution, Hon. Ayo Omidiran, called for transparency in the selection process, saying, "If we really want to attend those courses, we should try as much as possible to make sure that those who are interested the opportunities get them. May be we can start to apply for such courses and even sign an indemnity so that we will prevent this type of disgrace of our own Assembly."
Also speaking, Dr. Ladi Hamalai, NILS director general expressed dismay with the attitude of some lawmakers who are fond of absenting themselves from overseas trainings.
"I have to express my fears, I held a meeting at the International Law Institute, Washington; and one of the questions that they asked me was, 'Ladi, we are willing to come and do the strategic legislative management training in Abuja but can you guarantee that they will attend? I said I would return home, and consult and let them know," she said.