Budget Implementation: Senate Accuses Executive of Distorting Facts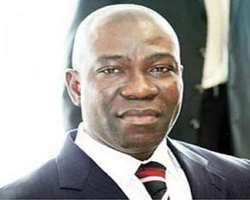 DEPUTY SENATE PRESIDENT, IKE EKWEREMADU
ABUJA, May 30, (THEWILL) - The Senate on Wednesday faulted claims of the Executive that the National Assembly frustrated the implementation of the appropriation bill, instead deflecting the blame to the presidency, which is now being accused of deliberately distorting facts.
Deputy Senate President, Ike Ekweremadu stated this while declaring open a public hearing on a bill seeking to establish the Erosion Control Prevention Commission.
He said that the Executive had no room for excuses over the implementation of the budget since the Legislature did not alter the appropriation bill as presented by the Executive.
He also challenged the Executive to go to the Supreme Court or any court of its choice over the constitutionality of the Legislature's role in terms of appropriation for the country.
"My advice to the executive arm of government is that in matters like this, we should dialogue and find a common ground rather than shifting blames, because the making of laws is dynamic," he said. "I want to believe that the issues just raised regarding appropriation bill — that we tore appropriation bill into pieces and made it impossible for implementation — are a distortion of facts. Certainly that is not true."
He said he was aware that the 2012 appropriation bill was returned to the Executive exactly the way it was brought. "We are challenging them … because we gave them back the way they brought it. Over the years they have always complained that they could not implement because of the National Assembly, so we expect them to implement it 100 per cent this time because that is their mission."
He added that the Executive could go to Supreme Court or any other court to look at the constitutionality of the Legislature's actions. "We will obey whatever the court says but if the Supreme Court decides otherwise, we will obey. We think these are the things we could discuss ordinarily. There is need for closer cooperation between the Parliament and the Executive," he added.
"This reminds me of what the president said during the Democracy Day symposium. We expressed our displeasure over some the bills we sent to the president for accent since last year and we have not gotten presidential accent. But in response, the president said that it was because we were creating agencies. We will continue to create agencies because that is why we are here."
Speaking on the incidences of erosion in the country, he said the need to create an erosion commission "is coming at a time that is very critical," and so it must be taken quite seriously.
"We have a duty to our people to protect their environment; the doctrine of generational equity envisages that our resources and environment in our charge today must be preserved and managed in such a way that those coming after us will not only know the sources but the environment they can also inhabit.