Akpabio Unhappy With Shoddily Constructed Eket-Ibeno Road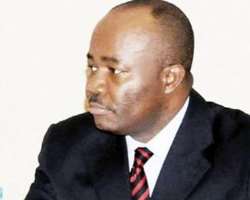 GOVERNOR GODSWILL AKPABIO
UYO, May 30, (THEWILL) - Governor Godswill Akpabio has expressed displeasure over the poor quality of work on Eket-Ibeno Road, which was awarded by Niger Delta Development Commission (NDDC) years ago to Fountain Construction Company.
Chief Akpabio, who spoke at a closed-door meeting with Mr. Chris Oboh, the managing director of NDDC, and Mr. Mark Ward, the chairman/managing director of Mobil Producing Nigeria at the Mobil Guest House, Eket, said he was unhappy with the company's construction of the road.
"From the state government, local government to the federal government level, people are anxious of development. The NDDC has promised and has actually given out contract for the road. Years after, little is done," he said. "But there's hope for the NDDC because the new managing director of the commission has shown focus, passion and commitment. For me, this is the turning-point. In the past, NDDC did not show focus. I would say that the commitment was not apparent for what I have witnessed," he stated.
The governor recalled touring with him on Eket-Ibeno Road because of the strategic nature of that road. "More than 2000 to 3000 people pass through that road every day. You are aware that Mobil Operational base is at the QIT, which passes through road. The road plays a very important role in the economy of the country when you consider the volume of oil that Mobil pumps out to keep the economy of Nigeria growing."
He advised indigenous contractors to show tact in delivering the job, saying, "If you give an indigenous contractor who is not experienced and does not have the right expertise means from day one, you are contracting to fail."
Akpabio advise the contractors to always gun for jobs they are capable of handling rather than under-quoting jobs they are incapable of.
"I want to urge NDDC to emulate oil companies because oil companies have standards in terms of job delivery. You must be careful of the type of contractors that would simply collect mobilisation and then go on to marry more wives and travel abroad."
NDDC MD, Mr. Oboh also expressed disappointment over the poor construction of the road and condemned the contractor
He said Akwa Ibom government was mandated to provide consultants to supervise the construction of the road, giving the contractor three months to complete and hand over the job.
He assured that NDDC, at whose behest the contractor was invited to meet the MD, would release funds for speedy completion of the road.