Exopa boss held at NACOB; Range Rover "EXOPA 7Y" impounded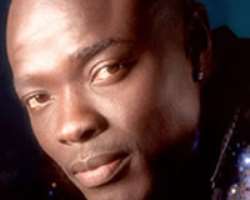 The Chief Executive Officer of Exopa Modeling Agency is to spend Tuesday night at the cells of the Narcotics Control Board as investigations begin into his alleged drug trafficking offence.
Ibrahim Sima was arrested Sunday at the Kotoka International Airport for allegedly attempting to smuggle to Germany substances suspected to be cocaine, the Public Relations Officer of NACOB, Francis Opoku Darkwa has confirmed.
The substances were alleged to have been concealed in four tubers of yam which were part of the luggage of the Ghanaian fashion icon, who until his arrest dazzled Ghanaian fashion lovers with his Ghana Fashion Week held last month.
Joy News' Sammy Darko has been on the beat and reports the fashion celebrity will be handed to the police for prosecution soon after NACOB is done with investigations.
The luxury Range Rover of Ibrahim Sima with a customized number plate "EXOPA 7Y" has been impounded at NACOB as investigations continue.
Workers of Exopa, Darko confirms, are in a state of shock, largely despondent, and need time to assimilate the new development.
Ibrahim Sima's arrest brings to three the number of cocaine arrests made at the Kotoka International Airport in two days.
According to Opoku Darkwa, a 34-year-old trader was arrested for a similar offence also on Sunday, enroute to Dubai.
Another arrest was made Tuesday morning.
Story by Nathan Gadugah / Myjoyonline / Ghana