Mark, Ndoma-Egba Urge Nigerians To Stick With Democracy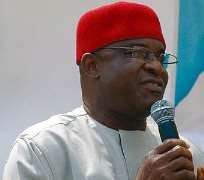 ABUJA, May 28, (THEWILL) - Nigerians have been enjoined to participate actively in the democratic process and collaborate with government to strengthen democratic institutions that would take the nation to the place of their dreams, as the system of governance is the one best suited for the country's pluralistic society.
President of the Senate, Senator David Mark made the remark in his goodwill message on this year's Democracy Day, which commemorates a system of governance that Nigerians "deliberately decided and designed" to follow.
In a release signed by Paul Mumeh, his chief press secretary, Mark said Nigerians owe their country the sacred duty of nurturing and sustaining the democratic institutions, saying that democracy is participatory and representative enough to carter to all interests where no one or group would be marginalised or oppressed.
"Whether in or outside government, everybody is a stakeholder in the democratic process. Both the ruling party and opposition parties are stakeholders in the democratic arrangement. Everyone is important and every role is relevant," he said.
"Therefore, we are all passengers in the same boat, so we must pilot it safely so that the boat would not capsize. All we need is to ensure that the tripod of presidential system of government: the executive, the legislature and the Judiciary arm, are all alive and responsive to their assigned constitutional roles. I am very convinced that if we all play our respective roles honestly and with the fear of God and putting the people at the centre of all our actions, this country will be a better place."
Similarly, leader of the Senate, Senator Victor Ndoma-Egba, said that democracy remains the only option to resolving the challenges facing the country.
In his commemorative message on the celebration, he said that while Nigerians have endorsed democracy as a system of government, it is more expedient to accept democracy as a medium of expression.
"Our democracy has matured and deepened. This is the longest uninterrupted episode of our democracy. We have moved from a transition of one term of a president to another term; and from one president to another president. Then one successful succession when even a president died in office," Ndoma-Egba's statement, issued in Calabar, noted.
"Our challenges: economic, social, political and security notwithstanding, democracy still offers us a veritable opportunity to negotiate, discuss and resolve these challenges; and the terms of our federalism to guarantee a stronger, more united, prosperous and secured Nigeria, based on equity, equality, secularity, justice and a rectitude in the public sphere."