Cassava Bread: Farmers Protest Against Reps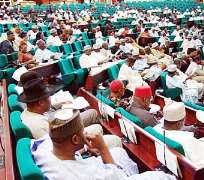 ABUJA, May 28, (THEWILL) - A coalition of Nigerian farmers on Monday stormed the National Assembly over last Wednesday's decision of the Federal House of Representatives to reject a bill seeking the inclusion of cassava in the production of bread in the country.
The protesters, under the auspices of Farmer's in Nigeria, expressed dismay with the House rejection of the cassava bill, which was thrown out at the second reading stage.
The farmers' associations include the Agbekoya Farmers Association, the Nigerian Cassava producers, Processors, and Exporters, and Royal Fathers.
Some of the placards read: "Please Don't Kill Cassava," "Who Is Patriotic, NAFDAC Or House Of Representatives – Agbekoya?" "Save Our Jobs," "Don't Starve Nigerians Who Elected You," "You Ate Cassava To Grow Up," "Foreign Food Means Foreign Debt," "I Eat Cassava, I Dey Kampe," and "NAFDAC Says Yes To Cassava," among others.
The executive director, Agro Development Technology Initiative, Prof. Alfred Ihekoronye, who spoke to journalists, said the health reasons cited by the House to back up its rejection of the bill are not supported by scientific evidence.
President Goodluck Jonathan had earlier in the year launched the commercialisation of cassava bread to promote government policy to include 40 per cent cassava in bread.
Jonathan promised new tax incentives for cassava flour millers and processors. Saying he would save N250 billion foreign exchange from reduced import of wheat and wheat flour, while 1.3million jobs are expected to be created in the next four years under the cassava bread policy.