JTF Accuses NNPC, JVs Of Aiding Oil Bunkering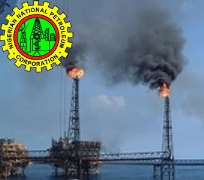 PORT HARCOURT, May 28, (THEWILL) - The Nigerian National Petroleum Corporation (NNPC) and its Joint Venture (JV) partners were on Monday accused by the Joint Military Task Force's (JTF) Operation Pulo Shield of culpability in the unending incidences of oil theft in the Niger Delta area, which have resulted in massive revenue losses for the country.
Commander of the 2 Brigade, Nigeria Army, Port Harcourt, Gen Tukur Yusuf Buratai made the accusation while briefing newsmen at the Brigade Headquarters, alleging that his Command discovered 56 oil bunkering sites operated by oil majors who have JV arrangement with the NNPC.
He accused the principal players in the oil sector of insincerity in the fight against the crime.
"Oil theft is a major issue of national concern," Buratai said. "If all the oil companies and indeed the NNPC will cooperate and work together, I want to assure you that we are going to completely stamp out oil theft in the Niger Delta. I want to say that the major stakeholders in the oil industry are not quite sincere in the approach towards fighting oil theft in the Niger Delta."
He boasted that the JTF has achieved so much in the area within one month, adding that previous achievements were in tripled fold.
"We had an assessment of the pipelines in the past. We discovered over 56 of those illegal bunkering sites and they belong to an oil company, and the NNPC is a major shareholder in that oil company. Unfortunately as I talk to you, I have not been told that even one has picked. So where will you get the solution to oil bunkering?" he queried.
He denied being part of the economic sabotage in the sector, saying, "If you talk of the connivance of the Army, I will tell you that we are not involved in oil theft. The Army is not involved at all. The Chief of Army Staff is highly committed to stamping out this act.
"Here in the Brigade, we are highly committed, highly dedicated. As at this morning, an officer was shot; because we had intelligence information that a vessel was coming in to steal oil. Our men stood there throughout the night. Around 5:00 this morning, the criminals and pirates who discovered that we were around throughout came out and attacked our troops. Fortunately, we were able to get one of them; we recovered their boats, and we are still searching for the rest."
In a recent message conveyed through Mrs. Diezani Alison-Madueke, minister of petroleum resources, the federal government said the country loses over N1 trillion (about $7 billion) annually to crude oil thieves, at a rate of 180,000 barrels per day.