PAP debates Activity Report of the Second Parliament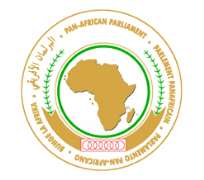 JOHANNESBURG, South-Africa, May 25, 2012/African Press Organization (APO)/ -- The President of the Pan-African Parliament (PAP) Hon. Dr Moussa Idriss Ndélé today presented the End of the Second Parliament Activity Report to the Seventh Ordinary Session of the Second Pan-African Parliament. The report presented all the activities of the outgoing Bureau for the entire period of the Second Parliament from May 2009 to May 2012 which Hon. Ndélé presided.
Hon. Ndélé noted that twenty meetings were held by the outgoing Bureau during its tenure and that they participated in all the Summits of Heads of State and Government where they engaged with members of the Permanent Representatives Committee, Executive Council and the Assembly, thus lifting the name of the Pan-African Parliament high. "These missions led us to consolidate our relations with these international institutions, discuss the transformation of the Pan -African Parliament, and promote the African Charter on Democracy, elections and Governance in view of new ratifications", and that it strengthened the visibility of PAP.
The President also reported that the PAP had campaigned and succeeded in obtaining the required number of ratifications for the African Charter on Democracy, Elections and Governance in order to for it to enter into force; an objective that was achieved when the Charter entered into force on 15 February 2012.
The President also reported that the Pan-African Parliament organized the "Women Platform for Action in Africa" in order to ensure that voices of women were integrated into the political processes of the African Union and also sensitise women in Africa on AU decisions. PAP aims to provide a forum which allows women to participate in the process of Africa's integration
The report revealed that cooperation agreements with a number of partners were signed during the Second Parliament which included among others the UNECA, the Support Network for African Parliaments (SNAP), the International Planned Parenthood Federation (IPPF) and the Inter-Parliamentary Association of the Orthodoxy (IAO).
In closing Hon. Ndélé invited all Members to "participate in the building of a parliament, credible in the eyes of the African Union and our partners".
The PAP is due to elect a new President and four Vice Presidents on Monday 28th May 2012, who will lead the Third Parliament.