Electronic voting for "dogs & baboons"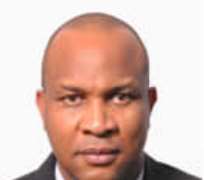 Recently, when former Head of State and Presidential candidate of Congress for Progressive Change (CPC) in the 2011 general election, Gen. Muhammadu Buhari (rtd) said, inter alia, that "by the grace of God, the dog and the baboon would all be soaked in blood." I wondered who the dogs were and who were the baboons? Okay. So, I may not be as sharp as some of my readers in deductive and inductive logical reasoning. Anyway, since he was talking of the 2015 elections, I thought it good that we at least understand these two animals before we delve into our main issue.
General Buhari

A dog is defined by the dictionary as "a domesticated canid … any carnivore of the dog family Canidae, or a despicable man or youth." I don't know which one he was referring to, but a gambler could bet that he was probably talking about the third type (a la despicable man or youth). What about a baboon? It is "any of various large, terrestrial monkeys of Africa and Arabia, having a doglike muzzle … or a coarse, ridiculous, or brutish person, especially one of low intelligence." His Excellency was probably referring to the latter definition. Nonetheless, a dog and baboon are both four-legged carnivorous animals, while we humans are described as being two legged, unless we choose to walk on all fours. Americans believe that a dog is man's best friend, but I don't believe they will use the same affectionate description for a baboon. Of course, some scientist may claim religiously that the baboon is genetically closer to us than the dog.

Whether you refer to your fellow Nigerians (human beings) as a dog or baboon, we still have to decide whether a dog or baboon can vote or rig an election. I have heard of cows allegedly being counted as voters in the past. Alright, so even our beloved late Fela sang that "animal won dash us human rights." Our concern here is not with nomenclature, but the actual representation.

Anyone who tells you that the 2011 elections were free, fair and credible was probably not at any of the polling stations or is suffering from some Jega-induced delusions of grandeur. Comparatively speaking, 2011 was apparently better than 2007, but we still have a long way to go. That is why getting it right in 2015 becomes a top priority. However, we should not forget that we have other elections that Independent National Electoral Commission (INEC) will be conducting before then.

What puzzles a lot of us and the countless courageous elderly village women, who stood in line and withstood the elements, to register to vote in early 2011, was why the same technology/methodology (biometrics) was not employed for the actual voting a few months later? The unknown answer to the villagers is that Section 52(1) (b) of the 2010 Electoral Act says: "The use of electronic voting machine for the time being is prohibited." One wonders if the same honourable members of the National Assembly that passed the Electoral Bill into law were not the same one that approved the huge sums of money for the DDC machines used in the voters registration exercise. Did it not occur to them that they were giving to Nigerians with one hand while taking away with the other hand?

Anyone that participated in in the 2011 voters registration exercise could have been taught or trained on how to vote electronically. There should have been a massive orientation/education campaign. With all the political parties and NGOs around, that should have been easily surmountable.

Dogs may not be able to vote because of clumsiness or lack of dexterity, but maybe baboons could use DDC machines since the scientist want us to believe that they are our close cousins.

So that the old General's words don't come to pass again (remember the prophesy about the country being made ungovernable if President Jonathan won the election r?), let's think & talk.

Prof AOA Akpodiete is an author, Educator, Consultant, Political Analyst & Social commentator. He has lectured Law, Ethics and Security & Intelligence Studies at the University level here in Nigeria and USA. He currently divides his time between Nigeria and USA. Contact him on 08138391661 or [email protected]
Disclaimer:

"The views/contents expressed in this article are the sole responsibility of

Prof. Alex O. Atawa Akpodiete, Esq.

and do not necessarily reflect those of The Nigerian Voice. The Nigerian Voice will not be responsible or liable for any inaccurate or incorrect statements contained in this article."
Articles by Prof. Alex O. Atawa Akpodiete, Esq.