Reps Defend Hembe, Say He Is Still Chairman Of Capital Market Committee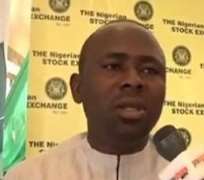 ABUJA, May 24, (THEWILL) - Chairman of the Federal House of representatives Committee on Capital Market, Hon. Herman Hembe and his deputy, Hon. Chris Azubogu, were never sacked, the upper chamber has said, in an apparent affirmation of its support for the embattled duo.
The two are presently being prosecuted by the Economic and Financial Crimes Commission (EFCC) over allegations of corruption levelled against them by the director-general of the Securities and Exchange Commission (SEC), Ms. Arunma Oteh, and have been recently referred to as former chairman and former deputy chairman respectively.
However, at a briefing on Thursday, the deputy chairman of the House Committee on Media and Public Affairs, Hon. Victor Ogene explained that Hembe and his committee members voluntarily stepped aside from the investigation of the capital market and not from the committee.
He said it was even Hembe himself who requested that he and the committee be excused from continuing with the investigation in view of the allegations made against them.
"I have been reading in the media that Honourables Hember and Azubogu were former chairman and former deputy chairman of the capital market committee. I don't think that the House at any sitting or anywhere took them out of their positions," Ogene said. "In fact, it was Hembe and his committee who asked to be excused from that function. So, they remain chairman and deputy chairman of the committee."
Reacting to the arraignment of Hembe and Azubogu, Ogene said it is open knowledge that the DG is a statutory member of the Board of the EFCC.
"So, if she is involved in a tango with any individual or organisation, I do not think that the EFCC is the right body to jump into such an investigation," he said. "I remember quite vividly that Honourable Hembe said he was open to investigation by the anti-graft agencies, he didn't mention EFCC. So why would it be the EFCC that would jump into it?"
Ogene said the charges preferred against the two Reps would not stand. "Section 308 will not stand if that is the charge and you are talking of an administrative procedure where you gave people money for a conference that was supposed to begin on 19th October and the money got to them through third parties on the same 19. This money wasn't signed by them.
"And if you are seeking retirement for those funds, it is the people who collected the money that should retire it. All these have not been taken care of and what EFCC did was to take them to court. Like I said the matter is in court and I am sure that the Judiciary will do the right thing."