TURKISH AIRLINES TO COMPENSATE CUSTOMER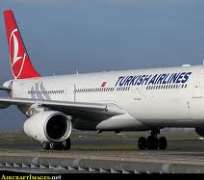 Following a petition by a Turkish Airline customer, Pastor Peter Yakubu to the Minister of Aviation and the Director-General of the Nigerian Civil Aviation Authority (NCAA) over poor treatment, the airline's authorities are negotiating compensation to the customer.
Our correspondent gathered that Turkish Airlines was embarrassed by the petition and is seeking to settle the matter amicably with the aggrieved customer.
Pastor Yakubu had called on the Minister of Aviation to intervene in the maltreatment of Nigerian visitors to Istanbul and other parts of the world by Turkish airlines.
In a petition to the minister, Mrs. Stella Oduah, the Senate Committee on Aviation and the Director-General of NCAA, Yakubu decried the unwholesome attitude of the airline at delaying the flights of passengers into and from Istanbul, illegal diversion of flight to Ghana instead of Lagos to avoid payment of landing charges to the Nigerian government and harassment of passengers by the cabin crew.
Other complaints by Yakubu include loss of his luggage in transit, making passengers to spend extra days instead of the normal hours on each journey.
He also complained about non-provision of accommodation for passengers due to  unnecessary delays by their negligence with no apology for inconveniences experienced by passengers and the harsh attitude of the staff of the airlines to its esteemed passengers among others.
Yakubu, a pastor in Lagos, said he had briefed his lawyer to file a suit to prosecute the airline if his complaints are not immediately looked into and addressed appropriately to minimize the loss he incurred in monetary terms among other complaints.