Salami Is A Member Of ACN, PDP Suggests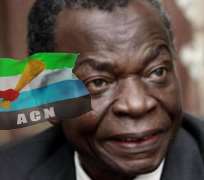 SAN FRANCISCO, May 24, (THEWILL) - The southwest zone of the Peoples Democratic Party (PDP) has challenged the Action Congress of Nigeria (ACN) to prove to Nigerians that the suspended President of the Court of Appeal (PCA), Justice Isa Ayo Salami, is not a member of the opposition party.
Condemning continuous attacks by "the party and its allies" on President Goodluck Jonathan and other notable individuals and institutions in the country over Salami's suspension, the ruling party argued that such aspersions are a confirmation that the ACN has interests different from the sanctity and the upholding of the rule of law .
The PDP also alleged a plot by ACN leader, Bola Ahmed Tinubu to bring a pro-Salami reinstatement motion before the Senate, adding that a Senator from Katsina State is being persuaded to lead the plot.
"It is funny that the same ACN that kept silent when one of its governors, Dr. Kayode Fayemi of Ekiti State, refused to swear-in two people recommended for appointment as judges by the National Judicial Council (NJC) is the one attacking the president for choosing to toe the line of rule of law on the issue of Justice Salami," a statement signed by southwest zonal publicity secretary, Hon. Kayode Babade, said.
"The question Nigerians must now begin to ask these ACN people is what their interest is in the Justice Salami issue? Why is it that they are the ones defending the suspended judge, organising protests and mobilising media support for him?
"Isn't it now clear that Justice Salami actually sold Ekiti and Osun States to the ACN and the party is now paying him back by standing by him during his travail? More so that the travail was occasioned by the ignoble role he played in the two controversial judgments? Perhaps, Justice Salami is actually the ACN deputy national chairman (judiciary), as now being said by members of the public."
PDP also hailed Jonathan for standing on the rule of law on the matter, saying that no responsible president would act on a matter on which more than five cases are still pending in court.