Stock Futures Edge Up Before Durable Goods, Jobless Data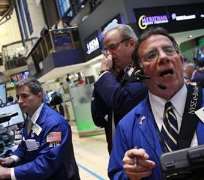 Stock index futures edged higher on Thursday as investors were hopeful that data on durable goods orders and initial jobless claims will show the world's largest economy is on the right track to recovery.
But trading was expected to be volatile as regional data out of Europe showed some deterioration in economic activity and investors remained concerned about Greece's exit from the euro zone.
The Labor Department releases first-time claims for jobless benefits for the week ended May 19 at 8:30 a.m. EDT (1230 GMT). Economists in a Reuters survey forecast a total of 370,000 new filings, a repeat of last week's figures.
The Commerce Department releases April durable goods orders at 8:30 a.m. EDT, expected to show a 0.5 percent rise compared with a 4.0 percent fall in March.
Surveys showed Europe's major economies suffered a contraction in their manufacturing activities and the German business climate deteriorated.
EU leaders, advised by senior officials to prepare contingency plans in case Greece decides to quit the euro currency, said late on Wednesday they were committed to Greece remaining in the euro zone but urged the country to complete the reforms demanded under its bailout program.
Disagreements have flared over a plan for mutual euro zone bond issuance and other measures to alleviate two years of turmoil, such as giving countries like Spain an extra year to make the spending cuts demanded of them.
After the close of stock market trade on Wednesday, electronic trader Knight Capital Group (KCG.N) said it suffered a pre-tax loss of $30 million to $35 million on the botched Nasdaq trading debut of social media giant Facebook (FB.O) and is demanding the exchange compensate that amount. The loss, which Knight said will be recorded in its second-quarter results, was due to numerous problems related to the Facebook initial public offering.
Also after the stock market close on Wednesday, Hewlett Packard Co (HPQ.N) said it plans to lay off roughly 27,000 employees or about 8 percent of its workforce over the next couple of years to jumpstart growth and save up to $3.5 billion annually. The stock was trading 9.6 percent higher at $23.10 before the stock market open on Thursday.
S&P 500 futures gained 4.6 points and were above fair value, a formula that evaluates pricing by taking into account interest rates, dividends and time to expiration on the contract. Dow Jones industrial average futures added 49 points, and Nasdaq 100 futures gained 9.25 points.
Costco Wholesale Corp (COST.O) posted a higher quarterly profit on an 8 percent increase in net sales. The warehouse club operator posted earnings of $386 million, or 88 cents a share, compared with $324 million, or 73 cents a share a year ago.
Stocks staged a late-day reversal on Wednesday, rallying into the close in another volatile session as a sharp rise in materials shares boosted the S&P 500 and gains in Apple (AAPL.O) helped lift the Nasdaq.
REUTERS