FASHOLA'S BRT AND THE UNFOLDING PROPHECY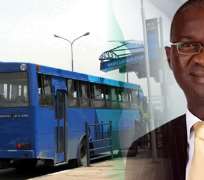 I am not one to beat the drums of political praise singing and sycophancy, if you know what I mean. I do not even have drumming skills. I am also a very reserved person when it comes to politics and politicians. I am almost of the opinion that being a politician is a strict liability offence, where the accused is presumed guilty, except he proves himself innocent. The long and short of the theory I am postulating is that "all politicians are corrupt, but some are more corrupt than others, until proven otherwise". This means I have never taken any political promise with any seriousness.
But I have great respect for the Governor of Lagos state, Babatunde Raji Fashola.
Though a lot of people have accused him of different degrees of political corruption, he is one exception to my general rule. While I do not outrightly exonerate him, I will be glad if anyone can prove the allegations against him. To me, Mr. Fashola is in a class of his own.
My respect does not, however, stem from my perceived uprightness of the honorable governor so much as from his ability to deliver on campaign promises, and the ingenious and contextual manner in which he does it. This is one governor that even the opposition has hardly had much to fight him about. I have always said that I reserve my presidential vote for when this exceptional Senior Advocate of Nigeria will step out for the presidency of Nigeria. This is not a political statement but a personal opinion.
All said and done, I also reserve the right and civil responsibility to point this man to areas where I feel his administration might be aching and beginning to limp after so many years of excellent delivery. One of these areas is the laudable Bus Rapid Transport scheme, simply known as BRT. It was quite an ingenious way to address the gruesome traffic and transport situation in a complex mega city like Lagos. It was a model that has not just been applauded internationally, but has been understudied and adopted by other countries. Lagosians, no matter their political sentiments, have greatly benefitted from this scheme, and we remain grateful. However, when one takes a look at the current state of the scheme compared with the model that was presented to the electorate and the standard at inception, one cannot help having a sinking feeling deep in the stomach that all is not well. The feeling of déjà vu cannot be easily shrugged off. We see it happening all over again.
This stems from a lot of the questions and even oppositions that trailed the scheme from the onset. Some of the questions, I remember, were obvious. If you wanted to address the traffic situation in Lagos, which is as a result of the vehicular volume on the roads being more than the capacity of the existing roads to handle, you don't reduce the size of the roads, you expand them. But the scheme mostly reduced triple-lane roads, which were already overstretched, to double by blocking off one lane and dedicating it solely to the BRT buses. The answers to this question were that the BRT scheme will first be made so attractive, comfortable, affordable and efficient as to persuade car owners that parking their vehicles and patronizing the buses was a better option. Consequently, the advantages were argued to be a longer life expectancy and maximum productivity on the part of the commuter as the stress of driving to and from work will be removed from him.
Durability of cars was also supposed to be a plus for the commuter who parks his car, thereby greatly reducing wear and tear. Consequently, this was to positively impact the state by reducing the number of vehicles on the roads. Added to that, commercial vehicles were to be restricted to the service lanes so as to reduce obstacles on the roads. The Lagos State Transport Management Authority popularly known as LASTMA was supposed to be the agency empowered to enforce these laudable plans, ensure vehicular movement and apprehend offenders. Outrageously high fines were spelt out against unco-operating members of the public so as to dissuade deliberate flaunting of the state traffic rules.
Half a decade (one full term and a year) on, things are not looking the way they were promised anymore. The buses are anything but attractive to the class of car owners today. They have become generally very dirty and rickety inside and often horribly overloaded as to become repugnant to any person of class, dignity and self-respect.
The result is that, instead of reduced vehicular volume on our roads, it is now worse than it was before the inception of the scheme. Commercial buses and motorbikes often take up most of the express part of the road, picking and dropping passengers with impunity thereby obstructing and frustrating other road users. Often, the LASTMA officials either look on helplessly or approach them for their own piece of the cake. Often, twenty naira gratification suffices. The result is obvious. This can be proven by a casual visit to bus stops like Mile 12, Ketu, Ojota, Anthony, Idiroko, Town Planning, Palmgrove, Fadeyi and other major bus stops on Ikorodu Road. Commercial buses, private vehicles and, especially police, military and paramilitary vehicles now ply the reserved BRT lane with impunity, and nobody bats an eyelid.
There was also the question of the maintenance and management of these buses. I remember the issue of original and dependable spare parts, and maintenance culture was raised many times by pessimists in the media. The brilliant answer was that maintenance centres and even assembly plants for these buses will be set up in Badagry and Epe, or other such areas of Lagos that have space. Such centres were also supposed to create jobs for Lagosians. The fear of people who raised such questions was that the BRT might eventually degenerate into another Molue system in Lagos, which was a beautiful scheme also from its inception. I do not know, however, if after five years any maintenance center or assembly plant has started in Lagos. But I do know for sure that some Molues are currently better fitted than some BRT buses. In many of the BRT buses, sits have either broken or completely removed without any bother to fix them. Some of the sits seem to need simple bolts and nuts only, and a spanner. Unfortunately, they may not have come to the attention of the maintenance unit. Simply put, most of the buses are in such a deplorable state, both inside and outside that they no longer hold an attraction to decent commuters who have a choice.
Another area of concern is the human factor. The attitude of our people to professionalism and standard had been raised at inception. We tend to abuse good and laudable efforts as a people after we have become familiar with them. Training was proffered as the planned panacea to this Nigerian syndrome. The workers will remain polite, sociable and professional in their approach, respecting the dignity of their commuters. Half a decade down the line, the drivers are totally lawless, aggressive and arrogant, having no regard to other road users. Try correcting them and they get very rude and abusive. They have even been known to have manhandled other road users before. Accidents from such carelessness have led to the loss of precious lives many times. The ticketing agents are equally rude and abusive, sometimes on simple issues of handing out the correct change after being paid.
Conclusively, while the BRT scheme is a brilliant and laudable project that has actually addressed the need of Lagosians, the neglect it is suffering has gradually led to little or no appeal for a good segment of the working class who were a major targeted section of the society. The complementing structures like the Lagos State Transport Management Authority (LASTMA) have failed in their duty to maintain the strict order that is needed for the smooth running of the scheme, largely due to corruption and negligence. If Fashola does not respond correctly to these anomalies, the scheme may not outlive his administration, and risk being scrapped by another regime, thereby resulting to a waste of scarce resources like other projects in the past. But I believe Governor Fashola is too intelligent to fall into this same mistake and let the enemies of progress rejoice over his good work.
Written By EDWARD DOOGA
[email protected]

Disclaimer:

"The views/contents expressed in this article are the sole responsibility of

thewillnigeria.com

and do not necessarily reflect those of The Nigerian Voice. The Nigerian Voice will not be responsible or liable for any inaccurate or incorrect statements contained in this article."
Articles by thewillnigeria.com