PEACE IN THE NIGER DELTA: HOW JONATHAN GOT IT RIGHT, LESSONS FOR DEALING WITH AND CRUSHING BOKO HARAM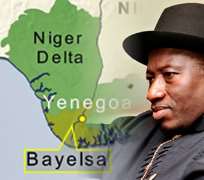 When in January 2011 President Goodluck Jonathan announced the appointment of Kingsley Kuku as his Special Adviser on Niger Delta, not a few knew that the President had delivered a master-stroke in dealing with the agitations in the Niger Delta.
Kingsley Kuku, a former Emeritus Spokesman of the leading agitating group in the Niger Delta, is an indigene of Arogbo in Ondo State, a former member of the Ondo State House of Assembly, a former secretary of the Yar'Adua Presidential Committee on Peace and Reconciliation in the Niger Delta clearly came into office with a pedigree. There are others who will also add attitude.
Kingsley Kuku knows every active player in the Niger Delta struggle or agitation on first name basis and was one of those who built the framework on which the Kaiama Declaration, the document that spells out the roadmap for the liberation and emancipation of the Ijaw and Niger Delta territory.
In appointing Kingsley Kuku as his Special Adviser on Niger Delta affairs, President Goodluck Jonathan had played a fast one on agitators in the Niger Delta.
The fact is Kingsley Kuku is very accessible. Another value is his humility has won the hearts of many people from the Niger Delta. Most importantly, his commitment to ensure that President Jonathan gets it right in the Niger Delta is very commendable.
Leveraging the quiet support provided by the National Security Adviser (NSA) General Andrew Owoye Azazi, Kuku continues to get it right in dealing with the agitations of restless young men in the Niger Delta who demand that it is not yet Uhuru.
There are many who agree that if President Jonathan had appointed a wrong person into that office, the peace we see in the Niger Delta would not be there now.
Flow-stations and critical oil and gas infrastructures would still be under attack and Nigeria would remain on it pre-amnesty oil production rate of seven hundred thousand barrels per day (700,000 bpd) as against today's production rate of about two million five hundred thousand barrels per day (2,500,000 bpd) which has made Nigeria to be the second highest OPEC producing country in the world way up from its pre-amnesty position of seventh!
There is something about putting the right people in the right place. People who are accessible to their people and can listen to their people. People who can help their people solve their many problems and then work with them to meet the challenges of everyday life.
People who see public service as an opportunity for selfless service for the communal development should be sought for and delivered to Nigerians at all levels.
This brings me to the issue of Boko Haram and Northern representation in the government of President Goodluck Jonathan.
Who are President Jonathan's appointees from the North?
Are President Jonathan's appointees from the North the wrong people? Are they accessible to their people?
Are they capable of selfless service? Do you reach out to their people? Do they listen to their people? Do they go to their constituencies regularly and engage with their people? Do they represent the interests of their people?
There are so many Northerners in President Jonathan's cabinet and it is anguishing to see that with so many of them in there, they still have not been able to help in containing the violence that Boko Haram is unleashing in Northern Nigeria.
While I am not in any way comparing the Boko Haram terrorist insurgency with the unrest in the Niger Delta which was driven by years of injustice meted out to the people of the Niger Delta whose resources have for decades now oiled the economy and existence of the Nigerian state, it is worrisome to note that the North and its elites are not doing enough to contain the Boko Haram menace!
At the height of the unrest in the Niger Delta, key leaders of the Niger Delta including elders, leaders of youth groups and even serving members of the Obasanjo and Yar'Adua governments immediately took charge and began to engage at all levels in a bid to find peace. To a large extent, they succeeded.
First, there is a Vice President in Namadi Sambo. And then are Ministers, Ministers of State, Permanent Secretaries and Heads of various government departments!
Just what value are these people adding to contain the Boko Haram onslaught? Time will tell.
These are serious questions for which answers must be sought especially in view of the warped crusade by Boko Haram to Islamise the Nigerian state and the murderous rampage with which they have set out on their mission.
There is the belief in many quarters that the Jonathan presidency offers an opportunity for a change of baton to a new and fresh set of leadership in the North.
It is therefore important that young leaders from Northern Nigeria should rise up and met the new challenges for a leadership that will carry their people away from the doldrums of selfishness to an era of communal selfless service and the pursuit of happiness for all people.
The issue of generational injustice has oftentimes been mentioned as one of the key reason why the North has become so leadership-desolate.
It is difficult to explain why Northern leaders who held sway in government and political spaces are still the same most relevant in the political space now.
Where are the progressive young leaders and community champions of the North?
At what time will the smart young and enterprising young people of the North be given the opportunity to lead and take over from the old? Or is there some deliberate plot to keep them out of leadership position?
With all the noise being made to link terrorism with poverty in the North, it might be important to state some obvious here.
Years ago, the North was a high producer of cotton, rice, groundnut etc.
Years ago, retiring military officers and government functionaries from the North used to go back home to own large agricultural farms. That is no more common.
Those who had farms have either left the farms to pursue oil blocks and oil lifting rights or win government contracts.
The large cotton farms are no more and those who originally used to cultivate and plough cotton farms have become hangers-on to top government functionaries or thugs to politicians.
What we see in the North today in unbelievable!
Some unemployed young men in the North have families with up to ten children and two wives! Who will cater for these children?
How can an unemployed man cater for ten (10) children and two wives?
Treacherously, some of their own elites in the North will then complain about poverty in the North and socio-economic inequality!
Is it not time for the North to build some social control strategy that should check such reckless over population of Northern Nigeria?
Why would you complain about poverty when you refuse to empower women?
MY POSITION ON HOW TO SOLVE THE BOKO HARAM MENACE
First, President Jonathan should find and appoint the right group of people from the North to represent Northern interests.
People like Kingsley Kuku who will always be ready to talk to their people on behalf of the President.
People who will not build walls around themselves and suddenly become demi-gods because sudden power has been thrust on them.
Secondly, total and complete deployment of the full military might of the Federal Republic of Nigeria.
The Nigerian army, Air Force, Navy, the Police Force and the State Security Services must all be strategically involved.
The State Security Services must reduce media hype, focus on content and get the job done. The business of intelligence gathering is not a showmanship thing!
The Nigerian Police including the Police Mobile Force must be specially and urgently mobilized for this high priority national service.
Too many members of our Police Force are just too incompetent! Some can barely speak English Language. There are many of such policemen in Northern Nigeria. I wonder how they got there in the first place. Little wonder the attacks of the Boko Haram sect on police stations and formations.
More competent policemen will need to be sent to the North if the war against Boko Haram must be worn.
High risk areas in Northern Nigeria must be flooded with bullet proof patrol vehicles which must be used to regularly patrol of suspect neighbourhoods.
There is not enough surveillance in the troubled areas of the North.
It is not enough to have gun totting soldiers at road blocks. How about plain cloths security officers at motor parks and secluded neigborhoods?
Total aerial surveillance of all high risk areas and the total taking out of any Boko Haram member found.
People who go out and bomb other families must not be allowed to go back to their own family. They should also face horrifying death.
Security agencies should regularly and publicly declare huge cash rewards and other incentives for anyone who provides good information.
Those who run the Boko Haram insurgency have friends, families and loved ones.
The business of killing people has to be made as unpopular as possible so that those that aid and abet the killing of innocent people will be made to rethink.
Anyone found to aid and abet Boko Haram must also be taken out immediately.
When the United States went out to get Osama Bin Laden, they had no intention of taking him to court. The American people had already pronounced judgement on him.
That is also why they use drones to take out terrorist elements. They did not need to arrest them and take them to court. They took them out instead.
The citizens of the Nigerian state have already pronounced judgement on Boko Haram.
Any state government that cannot provide a total strategy against Boko Haram must be faced with Total State of Emergency.
Those who cannot defend their huge security votes should be denied it.
At the height of the unrest in the Niger Delta, the Nigerian Air Force used fighter jets and helicopters to bomb communities in the Niger Delta.
The Joint Task Force (JTF) raided communities and levelled out many of them.
Far more innocent Nigerians including civilians, policemen and soldiers have been killed by Boko Haram terrorists.
There is no way you can deal with the Boko Haram insurgency when you refused to bomb their hide-outs and take them with slow death. It will not work. We are dealing with evil people not angry people.
I hear some people talk about dialogue with Boko Haram. These people forget too soon.
Was it not the same Boko Haram that asked some Northern leaders (serving and present governors) to apologize to them? Did the leaders not publicly apologize to them on National newspapers? Has that stopped them from killing people in the North?
Did some overzealous Northern fellow not induce former President Obasanjo to kick-start discussions with Boko Haram? Did Obasanjo not visit the family of late Boko Haram leader Yusuf? Did the terrorist elements not go ahead and kill Obasanjo's host Babakura Fugu not too long afterwards?
What do you want to go and discus with a group of terrorist elements who have bombed churches in Madalla, Suleja, Kano, Kano etc. and killed tens of thousands of innocent people including some families that were totally removed from the face of the earth?
How do you intend to discuss with infidels who rammed a car loaded with bombs into the buildings of the United Nations?
What will be the topic of discussion when you start a dialogue with infidels who have rammed a car loaded with locally made bombs into the buildings of a national newspaper in Kaduna and Abuja?
What is it that they want to tell the Federal Government that they cannot tell their brothers who are serving them at the various levels?
Rather than dialogue with the infidels, the Federal Government must strengthen the security agencies to take charge and do more.
Every household in Northern Nigeria should by now, have handy, the contact numbers of all relevant security agencies.
Every taxi driver in the North by now should have the contact number of every relevant security agency so that they can be contacted at short notice in the event of the detection of suspicious activity.
Every street hawker in Northern Nigeria should have by now the contact detail of all relevant security agencies so that suspicious activities can be promptly reported.
The biggest tool in the war against Boko Haram is community intelligence gathering and community policing.
Deploy incentives to reward those who provide information and see how far things will go. Reward them heavily and then deal with the terrorists heavily.
This is not the time to discuss with terrorists who only ambition is to kill innocent human beings. The only thing they deserve is death.
Boko Haram will not go away if we think about the rules or laws of human rights when dealing with them. They have no respect for human life.
You can only adopt human rights for those who respect human life!
It is as simple as that!

Written By George Kerley
[email protected]

Disclaimer:

"The views/contents expressed in this article are the sole responsibility of

thewillnigeria.com

and do not necessarily reflect those of The Nigerian Voice. The Nigerian Voice will not be responsible or liable for any inaccurate or incorrect statements contained in this article."
Articles by thewillnigeria.com